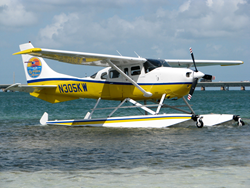 Fly to Islamorada, Little Palm, Key West...Use your imagination...
Key West, FL (PRWEB) September 29, 2014
Key West Seaplanes® has received congratulations from TripAdvisor, the world's largest travel website. The air charter service based in Key West and flying to the entire state of Florida, The Keys, all Bahamas and Caribbean has been congratulated again as the travel community continues to post positive reviews.
The seaplane charter company has received accolades in the recent past and has just again announced that the positive reviews have continued. In a letter from TripAdvisor, Key West Seaplanes® has been notified, "Congratulations! Our traveler community has reviewed your business on TripAdvisor". As the world's largest travel website, TripAdvisor attracts more than 260 million unique visitors every month.
Key West Seaplanes® is based in Key West, Florida but doesn't limit it's flights to the Florida Keys. Company representative, Julie Ann Floyd states, "Just a quick visit to our website or TripAdvisor listing will certainly get anyone interested in flying to one of the many tropical destinations we service...this includes private flights to Little Palm Island, Islamorada, Key West, Miami, West Palm Beach and of course all The Bahamas and Caribbean. If it's warm and sunny...We fly there!".
The company was formed in 2009 by Julie Ann Floyd and Nikali Pontecorvo, both long term local Key West residents and pilots. Key West Seaplanes® offers luxury, private seaplane charters as well as private airplane charters for travelers looking for a posh travel experience unlike any other. Floyd adds, "We enjoy meeting winter-weary visitors from the north, whisking them away in one of our seaplanes to an exclusive, tropical hideaway like Little Palm Island...and witnessing their transformation into rejuvenated, tanned and happy people ready to face the world again".
The seaplane company flies regularly from all points on the Florida mainland to Key West and Little Palm. Key West Seaplanes® flights are all private charters that come and go as passengers schedule them. The company has also recently been featured on The Travel Channel's Trip Flip in an episode "Ocean Adventures In The Keys" in which an unsuspecting couple was whisked away from Miami via seaplane to The Florida Keys.