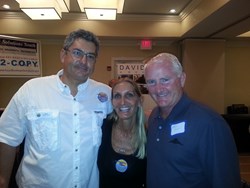 Key West Seaplanes welcomes Mark Baker, AOPA President...
Key West, Florida (PRWEB) September 30, 2013
Key West Seaplanes®, the region's long-established and premier seaplane charter company, welcomed AOPA CEO and President Mark Baker to Key West. Key West Seaplanes®, a presenter at the Key West Chamber of Commerce's 25th Annual "A Showcase of Key West Businesses" welcomed Baker to their display at the show.
Key West Seaplanes®, a long-established seaplane charter company took part for the fourth year in a row at the Key West Chamber trade show event held at the Casa Marina Resort in Key West on September 18, 2013. The event hosted over 40 vendors and businesses, all members of the Key West Chamber of Commerce. Key West Seaplanes® was in attendance as a presenter with a display showcasing their luxury seaplane charter services. Key West Seaplanes® pilots/co-owners, Nikali Pontecorvo and Julie Ann Floyd welcomed Mr. Baker to the large, popular trade show.
Hundreds of people visited the trade show including the new AOPA (Aircraft Owners and Pilots Association) CEO and President, Mark Baker. He was invited to the event by Key West Seaplanes® and was on hand to meet others at the show including a number of pilots. Baker, also a seaplane pilot and member of the Seaplane Pilot Association along with pilots of Key West Seaplanes® was visiting Key West after recently taking the helm of the AOPA. He showed his support for Key West Seaplanes®, the seaplane pilot community, and the AOPA during the trade show.
"Baker, a longtime pilot, aircraft owner and AOPA member, was appointed by the board of trustees on September 6 as only the association's fifth president in 74 years. He replaces Craig Fuller, who announced to the board in early 2013 that he planned to step down this year" as reported in the October 2013 edition of AOPA PILOT Magazine. Baker has also served in executive positions at The Home Depot, Gander Mountain, The Scotts-Miracle Gro Company and Orchard Supply Hardware.
Key West Seaplanes® owners and pilots Nikali Pontecorvo and Julie Ann Floyd express great enthusiasm for Baker's newest endeavor since Baker is also an avid seaplane pilot. All three pilots are longtime members and supporters of the Seaplane Pilot Association, SPA. Floyd states, "We have known Mark for a number of years and can't be happier that someone so enthusiastic about flying and with such an incredible leadership background would be the person to take General Aviation into the future". She adds, "And to think he's also a seaplane pilot! That's even better!"
Key West Seaplanes® pilot Julie Ann Floyd also serves as the AOPA ASN (Airport Support Network) representative and has done so for a number of years. This has lead to her increased involvement with General Aviation at Key West International Airport. Floyd also has served on the Monroe County/Key West International Ad Hoc Noise Committee for several years. Fellow Key West Seaplanes® pilot Pontecorvo has recently joined Floyd on this board as one of a few select appointed members that assist in containing noise at and around the Key West International Airport and also assist in the FAA Part 150 studies. Both Floyd and Pontecorvo are longtime members of the AOPA, EAA (Experimental Aircraft Association) on a National level as well as members of the local Marathon, Florida chapter. They both have flown countless children at numerous EAA Young Eagles events where pilots donate flight time in efforts to fly kids for free to introduce them to aviation, thus promoting aviation as a career. Key West Seaplanes® has also donated countless flight hours in their aircrafts to benefit this and similar programs.
Key West Seaplanes® is based in Key West, Florida and was formed in 2009. The company offers luxury seaplane charter flights throughout all the Florida mainland, The Florida Keys as well as seaplane flights to The Bahamas and Caribbean. One of Key West Seaplanes® most well-known and popular flight routes is their seaplanes to Little Palm Island from nearly every mainland airport as well as points in The Keys such as Key West. This includes flights such as Miami to Little Palm Island, Ft. Lauderdale to Little Palm Island and Key West to Little Palm Island. Other visitors enjoy aerial scenic seaplane sightseeing flights around Key West and The Keys.