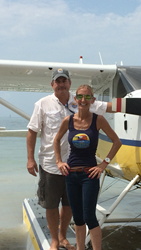 Fly to the Casa Marina via private seaplane...
Key West, Florida (PRWEB) May 26, 2016
Key West Seaplanes®, the region's premier seaplane charter company announces hotel guests arrived directly at the Casa Marina Beach via seaplane in Key West on May 18, 2016. The guests originated in Miami and arrived direct for the first time to the Casa Marina Beach via exclusive, private seaplane charter via one of the company's award-winning seaplanes.
In a recent Miami Herald article, Key West Seaplanes® is mentioned in an article entitled "Skip the Airport, get dropped off at a Key West resort's pier...."
Key West Seaplanes® offers private seaplane and airplane charter service for Key West, all the mainland of Florida as well as all the Bahamas and Caribbean. Key West Seaplanes is based in Key West and has offered seaplane charters to Little Palm Island, Hawks Cay, The Moorings via seaplane and other properties throughout the Florida Keys. The landing at the Casa Marina is a first and Key West Seaplanes®' representative Julie Ann Floyd states, "We are always excited to launch new services and to explore new options.....Stay tuned for other press releases about expansion of our services",
Key West Seaplanes® has been featured in many publications including Florida Travel and Life, Pilot Getaways Magazine, Worth Magazine and FLYING Magazine. The highly popular seaplane charter company boasts a fleet of all individually award-winning aircrafts. Each seaplane in the company's fleet are modified for noise abatement, performance and safety. Floyd adds, "One visit to our official website, KeyWestSeaplanes.com will certainly convince anyone to make a quick trip to a beautiful location such as the Casa Marina in Key West".