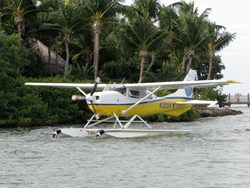 Fly in one of our seaplanes from Miami to Key West...takes only about an hour...
Key West, FL (PRWEB) December 31, 2013
Key West Seaplanes® announces Little Palm Island seaplane options with the beginning of another new year. Key West Seaplanes® continues to offer private seaplane charters to/from Little Palm Island as well as seaplane tours and services to guests already on island.
Key West Seaplanes®, formed in 2009, has been offering private seaplane transportation to/from the exclusive Little Palm Island Resort & Spa for a number of years. Many island guests arrive via Key West Seaplanes® from airport locations such as Miami International, Ft. Lauderdale International as well as smaller airports such as Tamiami, Ft. Lauderdale Executive, Boca Raton, Naples, West Palm Beach and Marco Island. Key West Seaplanes® and Little Palm Island also offer other seaplane options such as day trips from Little Palm to Key West, day trips to The Bahamas as well as local aerial sightseeing flights to see such views as The Seven Mile Bridge, Bahia Honda and local uninhabited islands.
Key West Seaplanes® has recently strengthened ties with Little Palm Island by sponsoring an exclusive dinner event for the South Beach Wine & Food Fest featuring Rocco DiSpirito on February 20, 2014. Seaplane flights to Little Palm Island for this SoBeWFF event are sponsored by Key West Seaplanes® who will also be flying Mr. DiSpirito to/from Little Palm Island.
As per sobefest.com/littlepalm, "Welcome to the Festival's most anticipated expansion yet - the Florida Keys! Escape on a one-of-a-kind romantic culinary journey to Little Palm Island for an intimate dinner hosted by Rocco DiSpirito. A chef and the author of nine award winning books, including the #1 New York Times bestsellers NOW EAT THIS! And NOW EAT THIS! DIET, DiSpirito is certain to capture your heart with his fresh take on comfort cuisine. Only accessible by sea-plane or boat, Little Palm Island is a slice of paradise so unique, and a recipient of Wine Spectator's Award of Excellence and on TRAVEL + LEISURE's Top 50 in the World list, you will want to escape again and again after this divine dining experience".
Key West Seaplanes® flies all of Little Palm Islands' VIPs at the island's request and the seaplane company offers that same level of impeccable, professional service to all that visit Little Palm Island. Key West Seaplanes® official website shares, "Escape to this private and exquisite island resort via your own private seaplane charter! Originate from anywhere on The Mainland or in The Keys (including Watson Island Seaplane Base, Fisher Island, Miami International, Key West or your private water front home or hotel) and enjoy low-level aerial flying for sightseeing along the way to your island destination. Our seaplanes are amphibious so we are capable of landing on water as well as on land. There is no better way to escape the world than by one of our seaplanes…..originating at any airport and delivering you impeccably to the Little Palm Island seaplane dock. You won't even get your feet wet! (Of course we can also originate at any water-based point such as Watson Island Seaplane Base near Miami's South Beach, Fisher Island or even your waterside home)".
Key West Seaplanes® reminds guests of the versatile options for their seaplane flights from Miami to Key West that include starting points such as the private side of Miami International (MIA), the smaller airports such Tamiami (TMB) and Opa Locka (OPF) as well as seaplane service from Watson Island Seaplane Base near Miami's famous South Beach. Key West Seaplanes® pilot Julie Ann Floyd shares "Our seaplane flights from Miami to Key West and Little Palm Island are really popular. Many people dread the long drive that can sometimes take several hours, but in one of our seaplanes the flight is just about an hour so we get you to Paradise much faster and without all of that stress associated with traffic". She adds, "What makes our seaplane service so convenient is that we originate your flight from the starting point most convenient for you. So, if you are flying a large commercial carrier into Miami International, you can connect with us there. If you live near a smaller airport such as Tamiami or Opa Locka, that's no problem. For those wanting to visit South Beach and then make a seaplane flight to Key West, we recommend meeting us at Watson Island Seaplane Base or Miami International's private/quiet side. Of course, we are happy to meet you at Fisher Island or your own private dock if you are lucky enough to live on the water".
Key West Seaplanes® has been recently featured on The Travel Channel's Trip Flip on the Trip Flip/Seaplane Adventure episode. Key West Seaplanes® has also been featured in Florida Travel and Life three times within the past year, including a cover feature. Other accolades include numerous other appearances in Water Flying Magazine and even a feature in the Internationally-acclaimed Water Flying Magazine featuring Key West Seaplanes®' Little Palm Island private charters.
Further expansions are on the horizon for Key West Seaplanes® this next calendar year as the company strengthens ties with the exclusive Little Palm Island Resort and Spa, located in the Florida Keys. It is a popular destination for Key West Seaplanes private charter flights.