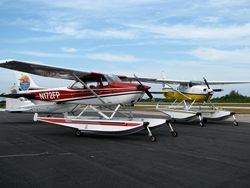 Key West Seaplanes® TripAdvisor Certificate of Excellence...
Key West, FL (PRWEB) May 31, 2014
Key West Seaplanes® charter service is recommended on TripAdvisor. Key West Seaplanes® has received numerous recommendations on TripAdvisor and is also the proud recipient of a coveted "Certificate of Excellence" from the world's largest travel site.
Key West Seaplanes® has received numerous accolades from travelers who have utilized their private seaplane charter services. Numerous passengers have reviewed Key West Seaplanes® service to Little Palm Island and have given Key West Seaplanes® rave reviews for quality of service, professionalism, and timeliness of flights.
Other TripAdvisor users have commented positively about Key West Seaplanes'® beautiful custom charter fleet and their flights from Miami to Key West via private charter. Key West Seaplanes® routinely flies passengers from all points in Miami to Key West. This includes departure points in the Miami area such as Miami International, Tamiami, Opa Locka and Watson Island Seaplane Base.
Key West Seaplanes® is based in Key West and was established in 2009. The exclusive seaplane charter company boasts a fleet of seaplanes and airplane options with all aircraft impeccably maintained and appointed. Key West Seaplanes® official website offers views of destinations and en route photos allowing potential passengers the opportunity to experience views of tropical waters and private island getaways without ever leaving their desk. The official website also allows for online booking options.
Key West Seaplanes® to the Bahamas are other flights that are growing in popularity. All Key West Seaplanes®flights are private and come and go as passengers book and desire. The company caters to clientele looking for the most exclusive and luxury seaplane experience aboard their own private (non-shared) seaplane or airplane charter.
Key West Seaplanes® is a full air charter company offering flights from all points on the mainland to the Keys as well as the Bahamas and Caribbean. Common flights include flights from Naples to Key West, flights from Boca Raton to Key West, Ocean Reef flights and Ft. Lauderdale to Key West flights.
The company looks to expand their fleet further this year as the popularity of their exclusive seaplane and airplane charter flights grows among travelers with needs for private air charters.