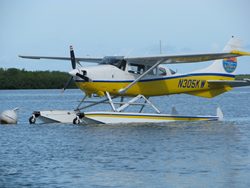 Over 3,000 Facebook "Likes" and counting...
Key West, FL (PRWEB) October 30, 2014
Key West Seaplanes®, the region's long-standing premier seaplane charter company announces that social media fans have spoken and continue to speak. The company's Key West Seaplanes® Facebook page has gathered in excess of 3,000 "Likes" and the number of fans continues to grow.
Julie Ann Floyd, representative of Key West Seaplanes® excitedly announces that as Facebook "Likes" continue to accumulate for her company there is also an increase in the numbers of people choosing private seaplane charter transportation with the company. "We at Key West Seaplanes® stay busy all year but we have been seeing an increase in calls and on-line bookings since the weather up north has started to turn chilly. Many people are already hearing the predictions for a long, cold and snowy winter so they are making their plans for a warm-weather escape via seaplane to Little Palm Island". The company's flying territory includes all the state of Florida, The Florida Keys, The Bahamas and Caribbean. Floyd adds, "It's always warm where we fly! You'll never see snow or even frost...just palm trees, sunshine and blue waters".
The company offers many types of seaplane destinations but Floyd notes, "It is very common for us to fly people from Miami to Little Palm Island and also Miami to Key West. Many people dread the drive that can take a number of hours but with a flight in one of our seaplanes it takes just about an hour". She adds, "What makes our seaplane service so convenient is that we originate your flight at the point most convenient for you. That includes airports big and small. So, in the Miami area this includes Miami International, Tamiami and Opa Locka". The company of course, also originates at water points such as Watson Island Seaplane Base or on the dock adjacent to a guest's private home.
The versatility of the company's seaplanes stems from Key West Seaplanes® fleet equipped with amphibious floats, thus enabling their seaplanes to land on water and also on land. Floyd clarifies, "Most people think of seaplanes being able to only land and take off from water. That is the case with many seaplanes...however, our seaplanes have amphibious floats that have gear (wheels) that are hidden up inside the floats required when landing on water but then are placed in the down position when landing on a runway or grass strip". The company boasts that one of their main goals is to reduce stress and aggravation for passengers by originating flights from whatever pick-up point is most convenient for their passengers. Floyd concludes' "Our seaplanes come to you, so you don't have to battle traffic or search for some obscure location to meet us. It's very easy".
Key West Seaplanes® Facebook page showcases photos of some of the seaplanes in the fleet and also entices viewers with aerial photos taken of some sights along the way during flights. Many Facebook visitors post thoughts of wanting to visit Key West, Little Palm and of course to see the locations by air. Others share thoughts of admiration for the concept of landing on the crystal blue waters in The Keys and other tropical destinations throughout The Bahamas and Caribbean via seaplane.
The exclusive seaplane company was formed in 2009. Key West Seaplanes® is based in Key West and is owned and operated by long-term Key West "locals" Julie Ann Floyd and Niakli Pontecorvo. The company has been featured in many Internationally-distributed publications such as Worth Magazine, Departures Magazine (American Express' magazine published exclusively for it's Platinum Card members), FLYING Magazine with a story showcasing Key West Seaplanes® service to Little Palm Island, Florida Travel and Life (numerous times) and has been featured on The Travel Channel's Trip Flip show with a storyline of flights from Miami to Islamorada.