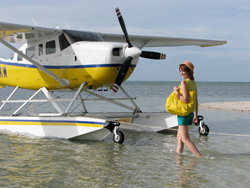 Key West Seaplanes® flies you to Florida's Most Romantic Beaches...
Key West, FL (PRWEB) June 17, 2014
Key West Seaplanes® fly to Little Palm Island- one of "Florida's Most Romantic Beaches" as per USA Today Travel Experience Beach Online Feature. "This secluded island can only be reached by boat or seaplane, making Little Torch Key the ideal getaway location for some quiet time to yourselves".
USA Today writer Sarah Sekula excitedly shares, "For full-blown seclusion, try Little Torch Key in the Florida Keys. This private, 5-acre island is romantic to the nth degree. In fact, the only way to get there is by boat or seaplane. Better yet, it's home to only one resort, Little Palm Island Resort & Spa. Settle in to one of the 15 thatched-roof bungalows where there are no TVs or phones in sight. In other words, you have no choice but to relax. Then, dig your toes into the sand while you dine by the sea and take a dip in the calm ocean while keeping an eye out for dolphins. Don't forget to order a Gumby Slumber, a refreshing cocktail made with delightful juices and garnished with fresh coconut. Come evening, head back to your room where you can rinse off in the outdoor shower and watch the sunset on your private verandah". The article is graced with an aerial view of Little Palm Island as well as a photo from Key West Seaplanes® website.
Key West Seaplanes® Julie Ann Floyd shares further, "We can fly guests from anywhere on the mainland to Little Palm Island....this includes Miami to Little Palm Island, Ft. Lauderdale to Little Palm Island, West Palm Beach to Little Palm Island and beyond". Floyd continues on to say. "our seaplanes are amphibious so we land on water and also on land. This means you can start at a ground-based airport whether it be a large International airport such as MIA or a small one such as Ft. Lauderdale Executive (FXE), We start wherever is most convenient for our passengers".
Key West Seaplanes® was established in 2009 and is a full-service seaplane and airplane charter company based in Key West. The company routinely flies VIPs to Little Palm Island from all points on the mainland and from the Keys and Key West to Little Palm Island. The company's website also allows online visitors to explore other options such as flights from Miami and Key West to Bimini via seaplane and all points in the Bahamas and Ft. Lauderdale to the Bahamas as well. Floyd adds "Our seaplanes can fly you from most points on the mainland and The Keys to The Bahamas and Caribbean".
Key West Seaplanes® Facebook page has over 1500 likes and many photos to lure vistors in for a visit. Key West Seaplanes® official website showcases photos of destinations, photos of some of Key West Seaplanes® fleet as well as options for online booking.