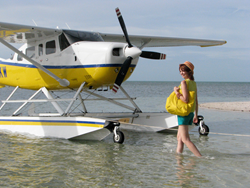 Key West Seaplanes®, a sponsor of the SoBeWFF...
Key West, FL (PRWEB) December 30, 2013
Key West Seaplanes® and Little Palm Island Resort and Spa join together as sponsors of the Miami South Beach's Wine & Food Festival 2014. This event also known as SoBeWFF will be the 13th annual presentation of the acclaimed festival.
As per SoBeFest.com, "The Food Network South Beach Wine & Food Festival presented by FOOD & WINE is a national, star-studded, four-day destination event showcasing the talents of the world's most renowned wine and spirits producers, chefs and culinary personalities. Hosted by Southern Wine & Spirits of Florida and Florida International University (FIU), the Festival benefits FIU's Chaplin School of Hospitality & Tourism Management and the Southern Wine & Spirits Beverage Management Center. To date, the Festival has raised more than $18 million for the School." Key West Seaplanes® is a proud sponsor of one of the most exclusive intimate dinner experiences of the entire festival.
The Miami South Beach and surrounding areas will be visited by famous chefs and personalities worldwide including Rocco DiSpirito, Anthony Bourdain, Andrew Zimmern, and Emeril Lagasse. The SoBeWFF runs from February 20-24, 2014 with events including intimate and private dinners, lunches and courses.
One such spectacular intimate dinner is the Little Palm Island SoBeWFF Dinner hosted by Rocco DiSpirito and sponsored by Key West Seaplanes® slated for February 20, 2014. The SoBeWFF website tempts readers with a description of the dinner event, "Welcome to the Festival's most anticipated expansion yet - the Florida Keys. Escape on a one-of-a-kind romantic culinary journey to Little Palm Island for an intimate dinner hosted by Rocco DiSpirito. A chef and the author of nine award winning books, including the # 1 New York Times bestsellers Now Eat This! And Now Eat This! DIET, DiSpirito is certain to capture your heart with his fresh take on comfort cuisine."
Only accessible by seaplane or boat, Little Palm Island is a slice of paradise so unique, and a recipient of Wine Spectator's Award of Excellence and on TRAVEL + LEISURE's Top 50 in the World list, you will want to escape again and again after this divine dining experience". Seaplane transportation to Little Palm Island for Mr. DiSpirito and guests is provided by official event sponsor, Key West Seaplanes®. Attendees may choose to fly via private seaplane from Miami to Little Palm Island or originating anywhere on the mainland including Boca Raton,Fisher Island, West Palm Beach, Ft. Lauderdale and beyond.
Key West Seaplanes® is based in Key West, Florida. The company has been featured in a multitude of aviation and travel magazines including Aviation Digest, FLYING Magazine, Pilot Getaways, Florida Travel and Life, Island Magazine, American Express' Departures Magazine and Water Flying Magazine. The premier seaplane charter company has also been featured on The Travel Channel in an episode of Flip Flip in which a couple is whisked away from Miami to Islamorada via seaplane to visit The Postcard Inn. Key West Seaplanes® routinely flies VIPs for the exclusive Little Palm Island and services other island resorts such as Hawks Cay and eclectic restaurants such as The Lorelei. Key West Seaplanes® to The Bahamas is another popular service known in the region.