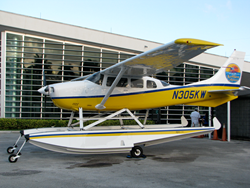 Key West Seaplanes® Wins Again...
Key West, FL (PRWEB) March 27, 2014
Key West Seaplanes®, the region's premier private seaplane charter service kicks off the new year with pride in being chosen for a featured photo in Quality Aircraft Accessories 2014 calendar. This winning photo showcases Key West Seaplanes® flying over the Florida Keys en route to the world-famous Little Palm Island Resort and Spa, a common destination for this acclaimed seaplane charter company. This winning photo was taken by Rob O' Neal of Key West, FL while aboard another of Key West Seaplanes® fleet aircrafts.
Quality Aircraft Accessories is an FAA Part 145 Class 1 and Class 2 Repair Station and the company's EASA approval allows them to meet the needs of the general aviation industry worldwide from their facility in Tulsa, Oklahoma. The calendar features Key West Seaplanes® with one of the company's seaplane fleet for the month of August, 2014. Key West Seaplanes® has set the new seaplane industry standard with every custom modification possible to increase passenger safety, reliability and comfort on all of it's planes. Key West Seaplanes® Little Palm Island Seaplane charters and private seaplane service to other destinations necessitate safety, reliability and passenger comfort.
Key West Seaplanes® was also chosen last year for this same QAA calendar with another of it's seaplane fleet, one of it's custom 206 amphibious seaplanes, featured in the month of June, 2013. The Seaplane Pilots Association, an international organization has also chosen a photo of this same seaplane from Key West Seaplanes® fleet as second-place winner in it's 2013 photo contest. This amazing seaplane will join the ranks with other well-noted aircraft that have been chosen to represent the many seaplanes that fly internationally and the owners and pilots that belong to this organization. The photo features a Key West Seaplanes® scenic flight over The Florida Keys.
Key West Seaplanes® is based in Key West, Florida. The two owners/pilots share more than 30 years combined flying experience concentrated in The Florida Keys, all the mainland including seaplane charters from Miami...as well as all The Bahamas via seaplane and Caribbean.
Key West Seaplanes® pilot Julie Ann Floyd states, "We are so proud to be flying seaplanes that have set the new industry standard. Members of our seaplane fleet are safer, more comfortable and also quieter". She adds, "Seaplane flights that originate in noise-sensitive areas such as Miami, Fisher Island and Ocean Reef rely on these performance characteristics".
Key West Seaplanes® newest seaplane also was winner of the coveted "Reserve Grand Champion Seaplane" award at the 39th annual Sun N Fun International Fly-In and Expo of 2013. Key West Seaplanes® also took home the "Grand Champion Seaplane" award at the 38th annual Sun N Fun Fly-In and Expo of 2012 with yet another one of it's custom, luxury seaplanes. Floyd is proud to state "Key West Seaplanes® stands committed to passenger comfort and safety...and the proof is that our passengers have the opportunity to fly in our state-of-the-art custom seaplanes". Passengers fly in these and other quality aircraft for the company's seaplane flights over The Seven Mile Bridge, around area lighthouses as well as for domestic and International charters.
The company looks to expand it's fleet even further this calendar year. Key West Seaplanes® is based in Key West as operates all year including summer months. Increasing popularity of The Keys and Bahamas has increased the company's business even through the summer months. Seaplane charters to The Bahamas and Caribbean continue and are also in the process of being expanded.