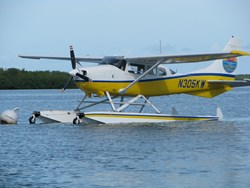 One of our seaplanes was in the right place at the right time...
Key West, Florida (PRWEB) November 30, 2013
Key West Seaplanes® the region's premier seaplane charter company makes news again for it's rescue of a pilot stranded in the waters near Key Largo, Florida. Key West Seaplanes® pilots came to the rescue of a pilot who ditched his airplane in an emergency water landing on August 8, 2013. This story is now featured in Water Flying Magazine's current issue.
Key West Seaplanes® pilots Julie Ann Floyd and Nikali Pontecorvo were flying one of the company's seaplanes between Key West and Miami International with no passengers aboard when they heard the distress call from another pilot. That private pilot was flying a conventional, wheeled airplane (not equipped with floats) over water and was experiencing engine problems. Pilot Floyd shares, "The first call he made to ATC (Air Traffic Control) was that his engine was running rough and that he may need to land emergently in the water". This distress call, of course captured the attention of the seaplane pilots who continued to monitor the busy radio frequency for another call from that same pilot. Floyd adds, "His next call was a few minutes later when he confirmed he indeed was having engine problems and would be making an emergency water landing, which is called a ditch procedure. My immediate response call to ATC was that as a seaplane we were in an unique situation to perhaps assist that pilot since we can safety land and take off from the water".
The Key West Seaplanes® pilots asked for vectors to the ailing aircraft's position and were able to locate that aircraft still in flight, just about 10 miles away from their starting position. Floyd continues, "We were able to come up along side him at a safe distance while all the time communicating with him, ATC and then also ultimately personnel at the Ocean Reef Airport. We flew along side him for about 20 minutes while the pilot continued to fly toward an alternate airport, the private Ocean Reef Airport." The Key West Seaplanes® pilots then heard the call that the ailing airplane's engine had indeed, ceased running and the pilot announced he would be ditching the airplane in the Card Sound waters which was about 7 miles short of the Ocean Reef Airport. Floyd shares, "We continued to fly along side him, watching while he made a text-book-perfect water landing. We landed just beyond his touchdown point and as we got the seaplane turned around, the pilot was already out of his airplane that was quickly sinking". The seaplane pilots taxied over to the submerged airplane and Floyd stepped out onto the float of her seaplane asking the pilot if he was injured. She adds, "He was in great spirits and very happy to see us. He said he was not injured, had no pain and was able to swim the very short distance to the seaplane."
The Key West Seaplanes® pilots then flew the rescued pilot to Miami where he was able to change into some dry clothes. Floyd jokes, "We had a spare Key West Seaplanes® shirt and hat with us but he had to keep his own water-soaked shorts and shoes." Pilot Pontecorvo adds, "It's all in a day's work... we helped a fellow pilot that we had never met and were still on-time to greet our charter passengers in Miami. It just feels good to be in the right place at the right time with the right tool (a seaplane) to get the job done."
Water Flying Magazine is the official publication of The Seaplane Pilots Association (SPA) and the appearance of Key West Seaplanes® rescue story is not the first time the company has been mentioned and/or featured in the acclaimed magazine. This story in Water Flying marks at least the eighth time the luxury seaplane charter company has appeared on the pages of this world-famous publication. The past stories have included a feature about Key West Seaplanes® to Little Palm Island service as well as the announcement of the seaplane that was involved in this rescue being named the Grand Champion Seaplane of Sun N Fun Fly-In and Expo 2012. Both Floyd and Pontecorvo are long-time active members of The Seaplane Pilots Association.
Key West Seaplanes® is based in Key West and is known for it's seaplane service from all the Florida mainland and The Keys to Little Palm Island and other exclusive island resorts. Key West Seaplanes® Miami to Key West and all the Florida mainland to Key West services are very popular with tourists as well as local Keys residents. Key West Seaplanes® Bahamas charters allow guests to fly from almost any point in the United States to The Bahamas and Caribbean.
Key West Seaplanes® Scenic Flights fly Key West and surrounding areas, introducing passengers to the beauty of The Florida Keys by air. The scenic seaplane flights provide great opportunities to see wildlife in the water as well as stunning views of uninhabited islands surrounding Key West. One of the more popular scenic flights include seeing The Seven Mile Bridge via seaplane.