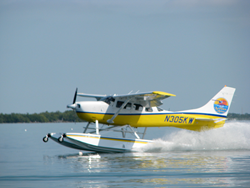 Key West Seaplanes® getting rave reviews on TripAdvisor...
Key West, FL (PRWEB) July 27, 2014
Key West Seaplanes® has been notified by TripAdvisor that the company " is getting rave reviews on TripAdvisor, the world's largest travel site". The premier air carrier is also the proud recipient of the coveted "Certificate of Excellence" award from TripAdvisor.
The premier air charter service is recommended on TripAdvisor and has received numerous accolades from travelers who have utilized their private seaplane charter services. Numerous TripAdvisor users have reviewed Key West Seaplanes® and their private seaplane charter service to Little Palm Island and have given the seaplane company rave reviews for quality of service, professionalism and timeliness of flights.
Other users have commented positively on the company's custom, charter aircraft fleet and their flights from Miami to Key West via private seaplane charter. Key West Seaplanes® regularly flies passengers from all points on the Florida mainland including all points in Miami to Key West. This includes flying from all points in the Miami area to Key West including Miami International, Tamiami, Opa Locka and Watson Island Seaplane Base.
The acclaimed seaplane charter company is based in Key West and was formed in 2009. The company boasts a fleet of seaplanes and airplane options with all planes impeccably maintained and appointed.
Key West Seaplanes® official website offers online booking options and also allows website visitors a chance to explore all the tropical destinations served by this premier air charter company- all without leaving their desk or office. The official company website features many photos of destinations, aircrafts, and en route flights showcasing the beautiful scenery encompassing all the territory of flight.
Exclusive, private flights to The Bahamas are also featured on the official website. These flights include Miami to Bimini via seaplane, Miami to Freeport, as well as Key West to Bimini and Key West to Nassau all via seaplane. Key West Seaplanes® flights offer service from all points on the Florida mainland to all points in The Bahamas and Caribbean. Popular routes of travel include flights from Naples to Key West, flights from Boca Raton to Key West, flights from Sarasota to Key West and even flights from Ocean Reef to Key West.
The company look to further expand it's fleet this year as the demands for their services grows.