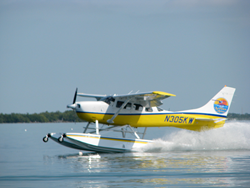 Key West Seaplanes®/Islands Magazine...Name that Island...
Key West, FL (PRWEB) May 03, 2014
Key West Seaplanes® appears in Island Magazine's "Outtake" feature article in the current edition for May 2014. The premier seaplane company teamed up with photographer Jon Whittle in a recent visit to a private, uninhabited island in the Florida Keys.
"That One Island" is featured in the May 2014 edition of Islands Magazine challenging readers to guess the name and location of the island located in The Florida Keys. It is featured in this amazing island-themed publication which is a division of Bonnier Corporation.
As the Islands Magazine article reads "The name of this island? Not sure. That might actually be the name of the island: Not Sure. It's one of 17,000 islands in The Florida Keys, among them Ramrod and No Name".
Key West Seaplanes® pilot Julie Ann Floyd shares "Of course, we know the location of this island as well as the name but we are going to keep it a secret. There are so many just like this all through The Keys and there really is no better way to see them than with us in one of our seaplanes". She adds "Many of The Keys are off-limits to seaplanes and boats but this one is not. We have been flying down here for many years and our pilots know their way around these islands...there is are amazing opportunity to see them and experience them from the air". Key West Seaplanes® offers local aerial sightseeing seaplane flights of Key West, in and around Key West and all The Keys. The flights are done at about 500 feet over the water to allow for great opportunity to see wildlife under the water. Floyd shares, "We often see dolphin, rays, turtles and hammerheads . Of course, when in season we also see manatee and tarpon...everyday I see something I have never seen before!"
Key West Seaplanes® is a full seaplane charter and airplane charter service for the mainland of Florida, The Keys as well as The Bahamas and Caribbean. Established in 2009 the seaplane company boasts a fleet of custom seaplanes which include award-winning seaplanes such as the Grand Champion Seaplane of Sun N Fun 2012 and the Reserve Grand Champion Seaplane of Sun N Fun 2013. Fleet owner Floyd states "Luxury seaplane travel with us takes many people by surprise. Often times passengers expect a rugged and rustic experience but there is nothing rugged or rustic about flying in any of these seaplanes. We fly the most discerning travelers including those flying seaplane charters to Little Palm Island and other high-end resorts all through Florida, The Keys as well as The Bahama and Caribbean".
Key West Seaplanes® is based in Key West, Florida and offers daily private seaplanes to Little Palm Island, Hawks Cay, The Lorelei, Key West and beyond. Floyd shares "Common flights for us are Miami to Key West via seaplane, Ft. Lauderdale to Key West via seaplane as well as all points on the mainland to Little Palm Island". She adds "Of course we fly almost everywhere and anywhere including common flights from Naples to Key West, Boca Raton to Little Palm Island and West Palm Beach to Little Palm."