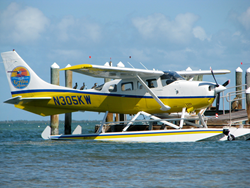 Fly direct to Little Palm Island...
Key West, FL (PRWEB) November 27, 2015
Key West Seaplanes® announces another year of exclusive Little Palm Island seaplane charters, originating from every point on the mainland and The Florida Keys. Guests may also arrive from flights originating in The Bahamas and Caribbean.
The company, based in Key West but servicing the entire state as well as The Bahamas and Caribbean offers exclusive private seaplane charters and celebrates another year of service with expanded options. Passengers aboard Key West Seaplanes® charters may also "island hop" en route to their final island destination, Little Palm Island. Julie Ann Floyd of Key West Seaplanes® excitedly shares, "Many travelers start at a mainland airport such as Miami International, Palm Beach International or Naples and fly direct to Little Palm Island for lunch, brunch, dinner or overnight. But many travelers also choose to make stops along the way such as enjoying some time shopping in Key West or one of the other keys prior to arriving to Little Palm Island". Floyd adds that, "Most people enjoy the quickest, most direct option to Little Palm Island that we offer but many others also enjoy the island hopping services that we offer as well."
Key West Seaplanes® official website also details some of these options that are available as the company is now entering into another year of offering private, exclusive seaplane charters to Little Palm Island. Floyd adds that "The Fall and Winter months are really a spectacular time to get away to Little Palm Island where you can relax and soak up some sun while it snows at home!". The company's seaplanes are capable of taking off from any airport large or small including Miami International and Fort Lauderdale International. Floyd also adds "Our seaplanes are amphibious meaning they can land on water and also on land which makes them very versatile. Then when you arrive at Little Palm Island your seaplane will land in the water right at the resort, so when you step foot our of your seaplane you are stepping foot right at the resort, on the island". She continues, "There is not a more direct way, the island is even too small for a helicopter to land, so going in via seaplane with us certainly is the most direct".
The company boasts full seaplane charter service services to Little Palm Island, Islamorada, The Moorings Village and Spa, Marathon and countless other destinations throughout The Keys including Key Largo and Ocean Reef Club charter flights. Key West Seaplanes® flights from Miami to Key West are also very popular. Key West Seaplanes® official website offers further updated options.
Key West Seaplanes® offers flights 365 days per year, all year long including major holidays. Floyd states "We are all long-term locals to Key West and are ready to help you have full, convenient access to beautiful South Florida and there is no easier way than by private seaplane charter with us. We also have regular airplane (on wheels) charters as well".
The company also offers regular airplane flights (aircraft on wheels) between the mainland and the Florida Keys. Seaplane options are also available for private, custom charters from all points in the Florida Keys and state of Florida to The Bahamas and Caribbean. "Many people enjoy the convenience of flying via seaplane from Marathon to the Bahamas and beyond" states Floyd. She continues, "And, with the addition of Customs services in Marathon there will be new and expanded options for flying to and from the Bahamas and Caribbean".