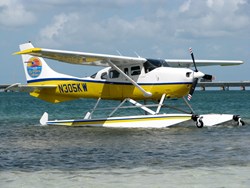 Two of our seaplane pilots rescued a private pilot after he made an emergency landing in the waters near Key Largo.
Key West, FL (PRWEB) August 31, 2013
Key West Seaplanes®, the region's premier seaplane charter company is featured in Aviation Digest's September, 2013 issue after rescuing a private pilot who made an emergency water landing. The private pilot ditched his plane in the water near Key Largo, Florida after his single-engine airplane experienced an engine failure on August 8, 2013.
Key West Seaplanes® confirms that two of its pilots went to the rescue of the private pilot after that pilot reported engine problems. A Key West Seaplanes® seaplane was making a ferry flight (with no passengers aboard) from Key West to Miami International when the pilots operating the seaplane heard the distress call from the private pilot. Pilot Julie Ann Floyd states, "When I heard the call of another aircraft experiencing a rough-running engine and facing an emergency water landing, my next call to Air Traffic Control was "I'm a seaplane and I can help"...I was already turning the seaplane toward where the private pilot was located." Both of the Key West Seaplanes® pilots, Julie Ann Floyd and Nikali Pontecorvo realized that the airplane experiencing engine problems was not a seaplane equipped with floats (pontoons), but a regular (wheeled) airplane that was not equipped to land on the water unless during an emergency situation such as this.
Pilot Floyd states, "We as seaplane pilots knew we were in a unique position to possibly render assistance so we expressed to Air Traffic Control our willingness to help." She adds, "We then diverted our flight path with the permission of ATC toward the location where the private pilot was experiencing engine trouble and followed that aircraft for about 20 minutes while communicating closely with ATC, personnel on the ground as well as the pilot of the ailing aircraft. That pilot was hoping he would be able to nurse the aircraft to a nearby airport for a runway landing but when he announced his engine had finally completely failed he was over water, nowhere near a runway." The pilot at this time then announced to ATC that he would be making an emergency water landing (also known as a "ditch" procedure).
The Key West Seaplanes® seaplane then continued to follow the airplane making the emergency water landing, keeping a safe distance. Pilot Floyd said, "We watched while the pilot made a text-book, perfect emergency water landing and then we landed our seaplane just beyond his touchdown point on the water. I was really impressed with the pilot's skill to do everything just as all pilots are trained. His plane stayed upright and came to rest on the water, showing no physical signs of damage to the fuselage. His plane did not flip, nothing broke off....it was a perfect ditch." Pilot Pontecorvo adds, "We then taxied the seaplane over closer to his disabled, floating airplane. The pilot was out of the plane within just seconds of making the emergency water landing and was sitting on top of the plane as it was rapidly sinking. The pilot was uninjured and able to easily swim over to our seaplane." Pilot Floyd adds "He had no signs of injury...no cuts, no scratches and no bruises. He had no pain and was in good spirits. He really did everything right. We were so happy to be in the right place at the right time to be able to offer our assistance. Flying seaplanes has its advantages....landing on the water to make a rescue such as this will certainly convince anyone of the value of having floats (pontoons) on a seaplane!"
The pilot of the private airplane is Chris Haseitel, an independent flight instructor based in The Middle Keys who was on his way to the mainland for a personal errand when the small, single-engine plane he was flying developed engine problems half way between The Keys and Miami. Those involved in the situation stress the difference between "crashing" and "ditching". They are not the same in that a crash is uncontrolled and a ditch is not. "It was a controlled landing...it just wasn't on a runway," Floyd states. "We witnessed it and can tell the tale."
The pilot of the private aircraft, Haseitel was transported by Key West Seaplanes® to Miami International Airport where he remained in good spirits and displaying no signs of injury. Pilot Pontecorvo said, "We had never met this guy before today. We're happy he's okay and we're glad we were able to help. He really did a good job." Floyd adds, "All pilots train for this and it just proves the training works."
Since this chance rescue meeting, the pilots have reunited at Miami International Airport on August 18, 2013 for a TV interview with Miami's Channel 4 News, an NBC-affiliate. When asked by the interviewer if there was camaraderie amongst pilots, all three pilots agreed, "Yes!"
The Key West Seaplanes® rescue story has been featured by Aviation Digest, ("The Pilot's Buying Guide to Aircraft and Services"), as well as the Internationally-acclaimed FLYING Magazine. The story has also reached the August 17, 2013 issue of Marathon Weekly, AvWeb.com ("The World's Premier Independent Aviation News Source"), The Key West Citizen and an on-air story featuring Mr. Haseitel on US 1 Radio on August 26, 2013.
Key West Seaplanes® is based in Key West, Florida and offers flights all through the State of Florida, The Florida Keys as well as seaplanes to The Bahamas and all The Caribbean. The company was formed in 2009. Key West Seaplanes® pilots Pontecorvo and Floyd have been flying in The Keys and surrounding region for 22 and 10 years respectively. The seaplane pilots have received accolades from the FAA, Miami Area Air Traffic Control, as well as other agencies for their performance in this rescue.
Key West Seaplanes® to Little Palm Island is a popular service that whisks passengers away from the mainland to Little Palm Island via a luxury private seaplane charter.