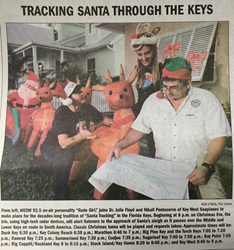 Everyone in the Keys will be watching for Rudolph's red nose tonight...
Key West, FL (PRWEB) December 24, 2015
Key West Seaplanes® the region's exclusive private seaplane charter service joins WEOW 92.7 again this year to sponsor the official Santa Tracking Radio Show and flight. Beginning 6:00 PM EST through 9:00 PM EST listeners in the Florida Keys should look to the sky for what appears to be Rudolph's red nose ahead of Santa's sleigh.
In excess of 20 years ago, local radio station personality, Rudey (aka, "Rude Girl") started a fun promotion enabling children of the Florida Keys and Key West to look overhead to the skies on Christmas Eve to have a chance to spot a red light, appearing convincingly to be Rudolph's red nose flying over the Florida Keys. Local legend has it that Santa "tests his radar equipment over the Florida Keys before delivering toys to all the children of the world".
Key West Seaplanes® pilots, Nikali Pontecorvo and Julie Ann Floyd have been involved with the community tradition for many years with pilot Pontecorvo being involved since the start of the tradition, over 20 years ago. Pilot Floyd has been involved every year since 2003.
Pilot Floyd shares, "We at Key West Seaplanes® give our time every year on Christmas Eve to help make a tradition continue for kids all through the Keys". Floyd continues with memories from her childhood, "I remember every year as a kid the local fire department helped to "track" Santa with use of their "special radar" equipment and would announce Santa's "location" over the scanner my dad had as a volunteer fireman". She continues by saying "I hope to think that we as pilots and owners of Key West Seaplanes® help to create special magic for kids at Christmas just like I had years ago".
Key West Seaplanes® sponsors this event each year now for a number of years and WEOW 92.7 hosts the Christmas Eve holiday show specifically "tracking" Santa and announcing his "location". Listeners enjoy a blend of Christmas music and callers phoning in to report sightings of what appears to be Rudolph's red nose ahead of Santa's sleigh.
In an official press release from WEOW 92.7 and Key West Seaplanes®, the station announced yesterday, "Santa tracking is back on WEOW 92.7 Christmas eve! from six until nine pm, elves Rudey and Molly will take your calls live on the air, two nine four nine nine two five when you spot Rudolph's red nose over the keys – as Santa drops down to check his sleigh's navigation on his way to south America! a big thank you to Key West Seaplanes for loaning their radar and expertise in tracking Santa. they will help us keep you posted as to where santa is over the keys, and at nine, Rudolph goes "turbo" shoots back into the stratosphere, and all us good boys and girls go straight to bed! ho ho ho!!!".
Key West Seaplanes® is based in Key West and provides exclusive private seaplane charters to Little Palm Island, all The Bahamas and Caribbean as well as seaplane flights from Miami to Key West, Naples to Key West via seaplane and beyond. The company's fleet of award-winning seaplanes are all very versatile with abilities to land on water and also on land. This method of seaplane travel makes tropical destinations such as Little Palm Island Resort via seaplane, The Moorings in Islamorada and countless other destinations in the Florida Keys and Caribbean easily accessible from almost anywhere.