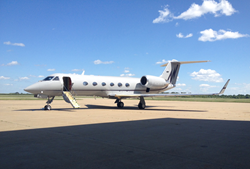 We are pleased to lead off the New Year with growth to our managed charter fleet with the addition of these two superb business jets", said Key Air President and CEO, Alan DePeters. "We look forward to providing greater availability to our charter clients
Oxford, CT (PRWEB) January 06, 2015
Key Air, a leading national provider of best-in-class aircraft management and worldwide executive jet charter services proudly announces the addition of two pristine long-range jets to its charter fleet of managed aircraft. The Gulfstream IV and Falcon 2000EX EASy will enhance Key Air's impressive fleet of charter aircraft and allow for greater availability to meet its ever increasing charter demand needs.
The Gulfstream IV and Falcon 2000EX EASy will both be based in the Northeast and have long-range capabilities to easily offer non-stop travel across the U.S and to some international destinations. Both aircraft are also Wi-Fi enabled allowing charter clients' the convenience and efficiency to conduct uninterrupted business and personal communications. The newly refurbished Gulfstream IV offers a range of 4,000 statute miles and its spacious cabin configuration can comfortably seat up to 14 passengers. It features deluxe amenities including a fully equipped galley with a microwave oven and a convection oven, two separate and enclosed lavatories, an entertainment system with DVD and CD Players, dual wide-screen monitors and three individual monitors as well as berthable seating for restful travel. The 2008 Falcon 2000EX EASy offers a range of 4,800 statute miles with a cabin configuration to seat up to 10 passengers comfortably. It too offers deluxe amenities including a fully equipped galley that has both a coffee and espresso maker, microwave oven and convection oven. A wide-screen monitor and eight individual monitors along with a DVD Player, CD Player and headsets complete the entertainment system on board. A separate and enclosed aft lavatory offers travelers convenience and privacy while berthable seating ensure restful sleep when needed.
"We are pleased to lead off the New Year with growth to our managed charter fleet with the addition of these two superb business jets", said Key Air President and CEO, Alan DePeters. "We look forward to providing greater availability to our charter clients while offering our management clients the opportunity to optimize the value of their asset. We are gearing up for a year of additional expansion to our managed fleet and the aircraft services we provide with the recent changes Key Air has undergone."
In addition to beginning 2015 with an expanded charter fleet, Key Air has also completed rigorous on-site safety audits performed by independent, third-party audit firms, and has recently been awarded continued Platinum operator status from ARG/US and renewal of its International Standard for Business Aircraft Operations (IS-BAO) Stage II Registration from the International Business Aviation Council. These recognitions exemplify Key Air's continued dedication to meeting and exceeding industry standards for safety and security. Through implementation of its comprehensive Safety Management System (SMS) and dedicated Safety Manager, Key Air remains committed to providing a proactive approach to managing risk and achieving the highest level of safety possible.
"We are proud to have once again achieved the prestigious and coveted Platinum rating from ARG/US as well as the IS-BAO Stage II Registration," commented Chris Hand, Key Air's Vice President, and Director of Operations. "I am honored to be part of a team who continually strive to demonstrate their commitment to the highest levels of safety and performance. Achieving these recognitions is a testament to Key Air's safety culture and to the hard work and dedication of all the aviation professionals who make up the Key Air team."
About Key Air
Established in 1986, Key Air's expertise and reputation for providing safety, reliability and exceptional customer service enabled its expansion from a regional operation to its current national status. Custom, tailored-made aircraft management solutions and boutique-style services exemplify Key Air's commitment to individualized care. Key Air manages an impressive charter fleet of modern midsize to ultra-long range aircraft all meticulously maintained to offer clients a broad range of solutions to meet their travel needs. Committed to the safety and security of its clients, Key Air garners several prestigious safety accreditations, including Industry Audit Standard registration from the Air Charter Safety Foundation, International Standard for Business Aircraft Operations (ISBAO) and continued Platinum operator status by ARG/US.
For more information about Key Air and our offerings, visit us at http://www.KeyAir.com or call us at 888.539.2471.