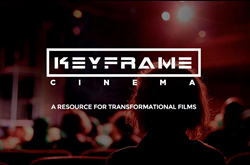 Keyframe hopes that its platform motivates community involvement and empowers participants to organize their own film festivals.
San Francisco, CA (PRWEB) April 23, 2014
"The Keyframe-Cinema film screening platform is a new online service that allows filmmakers to share their work with fans, film buffs, and festivals," says Keyframe-Entertainment CEO Julian Reyes. The platform is designed to facilitate the community film screening process, and also automates the licensing and delivery of media to film screeners, making it an unprecedented endeavor. The creation of the platform was prompted by the combination of industry growth, Keyframe's love for Electronic Music culture, and its years of experience managing community screening campaigns for "Electronic Awakening" and "The Bloom". As such, Keyframe-Cinema's catalog of films aims to display a variety of Transformational films, including documenting the evolution of Electronic Music Culture by unearthing, gathering, and sharing past films through community screenings.
Filmmakers create a profile, submit their film for approval and if accepted, are offered a non-exclusive contract for their film to be shared in community screenings. Filmmakers will receive funds from each screening organized by Screening Partners and incur no cost themselves whatsoever. In turn, Screening Partners also create an account, select film(s) from the Keyframe-Cinema catalog, and pay a license fee which mainly goes directly to the filmmaker. Screening Partners are then automatically delivered a digital copy or DVD of their selected film; a sublicense outlining rights and responsibilities; and the Keyframe-Cinema Film Screening Guide to assist in their event organization. Screening Partners determine how much they'll charge for a film screening and keep all proceeds from their event. As such, this model allows filmmakers to earn supplemental revenue from the screening of their films, while Screening Partners also earn income by organizing a community-based film event. Keyframe-Cinema aims to empower participants by challenging the traditional theater experience through the creation of their own film viewing events. The service is meant to facilitate community film screenings in alternate venues such art houses, bars, nightclubs, studios, galleries, libraries, events and festivals. Keyframe hopes that its platform motivates community involvement, post-film discussions, panels, Q&A, and empowers participants to organize their own film festivals.
Films currently in the Keyframe-Cinema catalog include "Electronic Awakening," "The Bloom Series: A Journey Through Transformational Festivals," and will soon feature "DMT: The Spirit Molecule." "Electronic Awakening" is an ethnographic documentary film Directed and Produced by Andrew Johner that investigates the spirituality of Electronic Dance Music (EDM) culture and its ties to ancient shamanic rituals. The film features Daniel Pinchbeck, Alex Grey, Terence McKenna, and Erik Davis, and a soundtrack with prominent Electronic Music artists such as Shpongle, Phutureprimitive and Random Rab. "The Bloom Series" is a documentary by Jeet-Kei Leung and Akira Chan that explores the phenomenon of Transformational Festivals. Each episode consists of a soundtrack with a range of artists which includes Kalya Scintilla, The Polish Ambassador, and Birds of Paradise. Hosted by Joe Rogan, The Spirit Molecule investigates dimethyltryptamine (DMT), a naturally occurring psychoactive compound, which exists in humans, and potentially every living organism. Utilizing Dr. Rick Strassman's government-sanctioned, human DMT research as the documentary's backbone, the study's potential impact and its inconceivable revelations emerge. A closer examination of DMT's effects through two traditionally opposed concepts, science and spirituality, The Spirit Molecule unravels the connections between cutting-edge neuroscience, quantum mechanics and human spirituality.
Keyframe-Cinema is accepting films on topics such as Electronic Music, alternative/sacred economics, Transformational Culture, psychedelic research, permaculture, meditation, sustainability, personal growth, Visionary Art, etc. Keyframe-Cinema is not a service where people can stream or buy films, because the platform only facilitates physical film screenings licensing. To register and learn more about the site, visit: http://keyframe-cinema.com/.
About Keyframe: Keyframe-Entertainment is a Transformational Media Network that bridges Underground Electronic Music and mainstream culture. By inspiring, informing, and entertaining through film, electronic music, visionary art, community building, and Transformational Festival culture, we aspire to create global positive change and enhance the living experience. Keyframe was launched in 2004 as a music label and artist management company. Keyframe has since expanded its scope to include consciousness films and events.