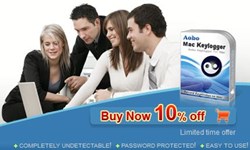 Aobo Keylogger for Mac is an easy to use key logger which logs passwords, chats, keystrokes, web visits and screenshots.
(PRWEB) October 28, 2013
Awosoft, the professional provider of monitoring software, is proud to announce the release of Aobo Keylogger for Mac 4.0.1 on Oct. 24, 2013, which supports OS X 10.9 Mavericks and makes it possible for Mac users to efficiently track and manage the activities done on Mac with features:

Log keystrokes and passwords typed
Log websites visited in Safari/Chrome/Firefox
Log chats in Skype/MSN/AIM/Adium/iChat
Capture desktop screenshots at a preset interval
Send all recorded logs via Email or FTP
Customized hotkey & passwords
Aobo Keylogger for Mac allows people to keep records of each and every activity on the Mac. Its invisible monitoring mode makes it hard to be found to prevent unauthorized access.
"The security, high quality, and easy to use are the core ideas of our products. Aobo Keylogger for Mac especially focuses on bringing better experience to customers in Mac computer monitoring" - Awosoft CEO, Mark Simon.
Obviously, the network has been deep into all areas of our society. Accompanied with the convenience from the network, it also causes the problem of online security. Aobo Keylogger for Mac is well-designed to track many different kinds of web activities. With the feature, it will become an easy job to know what a user did on an Mac. Aobo Keylogger for Mac provides an efficient method in watching families and supervising employees. It generates detailed reports of visited web pages, chat messages, composed email content, social networking activities etc. Aobo Keylogger for Mac helps you act accordingly and timely with the report sent to user's email/FTP periodically.
The captured screenshots help users find whom they chat with, when they use the applications and so on. The logs are illustrated with screen captures which enable users to know more clearly about the desktop activity on the Mac.
Aobo Keylogger for Mac plays an important role in:
Improving Parental Control
Boosting Family Network Security
Enhancing Employee Management
Catching a Cheating Spouses
Tracking a Lost/Stolen Macbook
Aobo Keylogger for Mac website: http://www.keylogger-mac.com
Download link: Download the 3-day-free trial Aobo Keylogger for Mac
About Awosoft.
Found in 2005, Awosoft is a software-based company that has gained good reputation in the industry for reliable and thoroughly tested software and is always dedicated to developing more excellent security monitoring software for Mac, PC, and mobile devices.