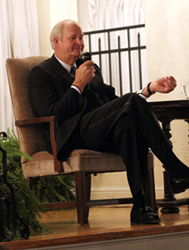 Dan enlightened us about the amazing history of Cleveland and shared stories that made us all feel more connected to our great city.
Cleveland, Ohio (PRWEB) January 16, 2015
Dan Ruminski has announced a new Cleveland Storyteller's Corporate Keynote Series specifically intended for company events, sales meetings, or fundraisers. Using engaging accounts of the leaders who defined Cleveland's history in the late 19th and early 20th centuries, Ruminski entertains audiences while delivering lessons applicable to today.
The Cleveland Storyteller's lively tales of the city and its remarkable people are authentic, entertaining, and personable. These 30-minute to one-hour presentations make an ideal keynote talk for events or motivational launches.
Ruminski makes you feel as if you're joining him fireside in a mansion on Millionaire's row. His collection of stories and historical discoveries unlock a remarkable cast of characters who left a legacy that we can learn from today. Your audience will hear surprising details and untold stories not found in any textbook that will draw parallels between Millionaires' Row heyday and the renaissance Cleveland is experiencing now.
According to Jon Lawrence, VP, Complex Director of Merrill Lynch, "We were delighted to have partnered with Dan Ruminski, Cleveland Storyteller, this year! Thru several client events, Dan enlightened us about the amazing history of Cleveland and shared stories that made us all feel more connected to our great city. Thanks to Dan for his insightful and creative storytelling; making all of us proud about our town and our mission to serve our clients in Northeast Ohio."
These stories uncover numerous lessons from Cleveland greats, including a desire to succeed against all odds, the determination to thrive in spite of economic strife, and a commitment to strong values that held up in even the most challenging times. These are the attributes that contributed to the success of the men and women who built Cleveland, and the same principles hold true today. Though Ruminski's enlightening stories, we grow an appreciation for the people who shaped Cleveland and created a dynamic and bustling economy.
Uncork Cleveland's lively history at your next corporate event. Ruminski brings a relaxed, after-hours flavor with his fascinating Cleveland history tales, providing a truly different experience to your event.
About
The Cleveland Storyteller's mission is to share the unique history that led the city to national and world recognition. Using little known, carefully researched stories, Dan Ruminski creates entertaining presentations of the history and helps promote Cleveland's greatness.
Mr. Ruminski was a teacher and coach at Gilmour Academy before buying his floor matting products business, Martinson-Nicholls. But his passion for history remained, and he has become a recognized expert on Cleveland history. When he gave his first talk on Millionaires' Row at library, where 40 were expected, over 100 showed up.
The Cleveland Storyteller continues to research the families and history of Northeast, Ohio. The clevelandhistorylessons.com website features his DVD and book, speaking schedule, and information on how to contact him for fundraisers. Learn more at ClevelandStoryTeller.com, or call Dan Ruminski directly at (440) 951-1312.