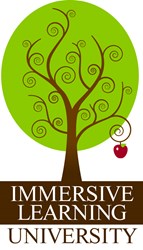 "Dr. Quinn is a leading expert in the e-Learning industry. His contribution to the 3rd Annual ILU Conference will give attendees vital information useful for improving the learning experience and increase the success of their training programs."
Wichita, KS (PRWEB) September 23, 2013
Clark Quinn, Ph.D., has been helping organizations deliver strategic learning technology solutions for over three decades. Dr. Quinn combines a deep background in the learning sciences with broad experience in technology applications, which he applies to the corporate, government, education, and not-for-profit sectors via Quinnovation. In 2014 Dr. Quinn will be the keynote speaker at the 3rd Annual Immersive Learning University.
Dean Fouquet, NexLearn Vice President of Vertical Markets says, "Dr. Quinn is a leading expert in the e-Learning industry. His contribution to the 3rd Annual ILU Conference will give attendees vital information useful for improving the learning experience and increase the success of their training programs."
The author of Engaging Learning: Designing e-Learning Simulation Games, as well as two books on mobile learning, Dr. Quinn is an ardent proponent of the need for learning experiences to go beyond traditional presentation and place learners in engaging performance contexts.
Dr. Quinn will present, "Gaming As If You Meant It: Designing Meaningful Practice." In this session, he will explore the alignment between effective educational practice and engaging experiences that means we can, and should, be using games as the most pragmatic form of practice. He'll then outline the steps needed to get around the barriers in processes to design practice that focuses on necessary outcomes and engages learners. Discussion will include the power of story, where subject matter experts hinder and help us, why exaggeration is our friend, and more. This exploration of the theories and practice of making meaningful learning experiences will give attendees tools they will be able to apply to their own experience to increase the quality of their training programs long after the conference ends.
"The only way for real learning to occur is for the learner to be actively engaged in making decisions, exactly what immersive learning is about. I'm excited to participate in the deep explorations this conference will provide," said Dr. Quinn.
Dr. Quinn will also lead a conference session and participate in a panel discussion during the conference.
To register for the 3rd Annual ILU Conference and Symposium, visit the registration page at http://www.ImmersiveLearningU.com. Special rates and group discounts are available.
About the Immersive Learning University
Immersive Learning University Conference and Symposium
http://www.ImmersiveLearningU.com/
January 27 - 30, 2014
Doubletree by Hilton Hotel and Suites Charleston – Historic District
Charleston, SC
NexLearn's Immersive Learning University Conference will offer professional development opportunities for everyone involved in immersive learning theory and production. The ILU Conference includes workshops exploring innovative applications for immersive learning and simulations from some of the most experienced practitioners in the field, including features and functions discussions for those interested in NexLearn's simulation authoring and implementation technologies. The Conference will also feature case studies, best practices, peer discussions, technology Q & A sessions, future solutions discussions with NexLearn product managers, and networking opportunities.
**Conference attendees will receive a complimentary copy of SimWriter Simplicity**
About NexLearn
NexLearn is a custom education courseware developer and toolset developer with extensive expertise in creating immersive learning simulations. The company's experienced, award-winning team has introduced some of the most innovative courses, tools and technology to the e-Learning industry, including the award-winning SimWriter immersive learning simulation authoring tool and CareerMap learning management system. For more information about NexLearn and SimWriter, visit the NexLearn Web site: http://www.NexLearn.com