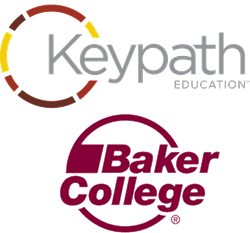 Our guiding principle is continuous improvement, and I think our partnership with Keypath Education is a great way to exemplify this value. - Jill Langen, Ph.D., president of Baker Online and the Center for Graduate Studies
KANSAS CITY, Kan. (PRWEB) August 30, 2016
Keypath Education, a full-service partner for higher education institutions worldwide, and Baker College, the largest independent, not-for-profit college in Michigan and one of the 10 largest private colleges in the U.S., are teaming up to better serve on-ground and online students.
One of the first colleges to pursue online education, Baker College Online recently received an exemplary endorsement from the Online Learning Consortium (OLC) – the OLC's highest honor – recognizing the outstanding quality of its online learning programs. To further the school's dedication to high quality education, it's partnering with Keypath Education for all marketing efforts. Keypath is now responsible for Baker College's creative, traditional and digital media, and all inbound marketing efforts such as search engine optimization, social media and content creation.
"Our guiding principle is continuous improvement, and I think our partnership with Keypath Education is a great way to exemplify this value," said Jill Langen, Ph.D., president of Baker Online and the Center for Graduate Studies. "Keypath's expertise, transparency and dynamic teams of subject matter experts will help us elevate our brand and reach the right-fit students for our best-in-class programs."
For more than 100 years, Baker has been focused on preparing students for successful careers. With 23,000 students in more than 100 programs, nine on-ground campuses and multiple extension and online campuses, Baker continues to meet the needs of today's traditional and nontraditional students.
"A partnership between Baker College and Keypath is a perfect fit," said Keypath Education Group President Mike McHugh. "Its emphasis on innovation in online education and focus on adult learners, paired with our deep expertise in these areas, set us up for success in advancing Baker's programs in this highly competitive market."
For more information, please contact Hannah Lemon, senior content marketing specialist, at hannah.lemon(at)keypathedu(dot)com or 913.254.6225.
About Keypath Education
Keypath Education partners with higher education institutions worldwide to launch online programs, grow enrollment, improve learning and connect education to careers through a proprietary technology suite. The company has helped more than 4,000 higher education institutions better serve students and graduates, resulting in a strong reputation for its education mission and quality in the United States, Canada, the U.K. and Australia. Since its beginning more than 25 years ago, Keypath Education has been dedicated to changing lives through education. Visit keypathedu.com to learn more.