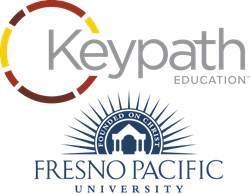 Keypath's strong foundation in higher education will enable us to quickly and efficiently launch and scale new programs. - John Kilroy, Ph.D., director of Fresno Pacific University's Center for Academic Innovation
Kansas City, Kan. (PRWEB) July 12, 2016
At a time when higher education is experiencing challenges in student enrollment, the demand for distance education continues to grow. Fresno Pacific University is partnering with Keypath Education, a full-service enrollment partner that specializes in online program management for higher education institutions worldwide, to launch six in-demand online programs in the areas of business, healthcare and computer science:

Bachelor of Arts in Business Management
Bachelor of Arts in Organizational Leadership
Bachelor of Arts in Healthcare Administration
Bachelor of Science in Computer Information Systems
Master of Arts in Leadership and Organizational Studies
Master of Business Administration
"We chose Keypath Education as a partner because of its academic focus and seasoned experts," said John Kilroy, Ph.D., director of Fresno Pacific University's Center for Academic Innovation. "Keypath's strong foundation in higher education will enable us to quickly and efficiently launch and scale new programs, attract the right prospective students, and expand our reach and mission to develop students for leadership and service through excellence in Christian education."
Fresno Pacific University, the only accredited Christian university in California's Central Valley, is known for its innovative programming, creative delivery and academic excellence. Founded in 1944, Fresno Pacific is ranked No. 37 on U.S. News & World Report's list of the top regional universities in the West. The university's partnership with Keypath Education includes marketing and recruitment services, technology and faculty support, course development, and student success advising to achieve ideal student outcomes.
"Fresno Pacific is in tune with the challenges of nontraditional students and focuses on serving adult learners in addition to traditional undergraduate students," said Keypath Education CEO Steve Fireng. "The institution is truly student-centric, measuring its success by student outcomes and promoting students' growth as a whole — academically, personally and professionally. We're excited to utilize our proprietary enterprise solution to help Fresno Pacific launch and grow high-quality, in-demand online courses."
For more information, please contact Hannah Lemon, senior content marketing specialist, at hannah(dot)lemon(at)keypathedu(dot)com or 913.254.6225.
About Keypath Education
Keypath Education partners with higher education institutions worldwide to launch programs, grow enrollment, improve learning and connect education to careers using a proprietary technology suite. The company has helped more than 4,000 higher education institutions better serve students and graduates, resulting in a strong reputation for its education mission and quality in the United States, Canada, the U.K. and Australia. Since its beginning more than 25 years ago, Keypath Education has been dedicated to changing lives through education. Visit keypathedu.com to learn more.