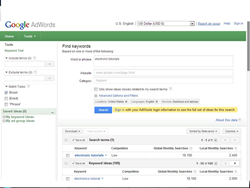 The AppsGeyser team suggested that I changed my keywords.
(PRWEB) May 27, 2014
Creating an Android app with AppsGeyser's free Android app tools is simple but ensuring high traffic is not as simple, until now. AppsGeyser has been looking at ways in which they can help app makers ensure that they receive high download rates that will convert into Android app success. With competition in the app market so fierce ensuring that an app is visible to potential app users is vital and now the secret to high visibility has been revealed, it is using the right keywords.
Keywords are the simple, yet effective tool that will help make an Android app successful. It has been proven through AppsGeyser's research that the right keyword will increase the organic search results of an Android app in a crowded app market such as Google Play. The difference of an app with a good keyword and an app without could be the difference between the failure or success of an Android app business. Click through to the AppsGeyser blog for more details.
"I have created a few apps and placed them on GooglePlay," Jeremy Jakes told us. "But I couldn't understand why I was simply getting no downloads until the AppsGeyser team suggested that I changed my keywords."
"If an app maker fails to research keywords effectively they will find that their app struggles to bring any downloads," explains Vasily Salomatov. "We suggest to all app makers that they upload their app a few times using different keywords to see which app begins to succeed and then proceed to upgrade and work with this app."
About AppsGeyser
AppsGeyser, launched in February 2011, is now the biggest Free Android App Builder on the market. AppsGeyser's popularity has risen by enabling users to create apps with ease for Android devices from any web content in under five minutes. AppsGeyser has seen more than 955,000 apps created on its platform. There have been more than 700 million downloads of its apps.