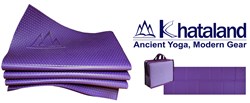 The Patent was issued for the innovative foldable yoga mat that folds to the size of a large book.
Millstone, NJ (PRWEB) September 09, 2013
Khataland, a leading provider of innovative yoga and fitness products, announced today that the United States Patent and Trademark Office has issued the company a Utility Patent on its unique YoFoMat®. The patent covers the innovative folding technology and proprietary design of the foldable yoga mat among other aspects.
The Patent US 8,510,878 was issued for the innovative foldable yoga mat that includes a plurality of embossed folding lines to allow a full length yoga mat to be folded into various sizes, which can go down to the size of a large book when all the folding lines are utilized, allowing the mat to easily fit into a regular backpack or handbag and be truly portable for everyday use and travel. The folding lines can also be used to transform the mat into a medium sized meditation mat, while the touch felt lines themselves can be used as guiding lines to assist body alignment in yoga or Pilates exercises. In addition, the proprietary design improves the hygiene of yoga practice by making the side facing the body never touch the side facing the floor. "The YoFoMat solves two main issues that I have with regular yoga mats," said Tina Elliott, a yoga instructor. "One, the side that touches my body never touches the ground, and two, it can fit into one of my regular tote bags when folded."
YoFoMat® utilizes modern technology to create embossed lines on an enhanced yoga mat to facilitate folding without compromising on the durability of the mat. The result is a high performance yoga mat that offers same grip and support as standard yoga mat, but also easy and convenient to carry around. Being environmentally conscious, Khataland only uses eco-friendly material in making YoFoMat®. The mat has passed rigorous SGS testing and is certified to be free from phthalates (16 types of phthalates tested) and free from heavy metals; it also meets or exceeds standards set in EU Directive 2005/84/EC to be safe for children. Khataland also designed an eco-friendly travel case for YoFoMat® with breathable material that keeps the mat dry and provides an easy way of carrying and storing the mat. The YoFoMat® come in a variety of colors and sizes, including extra long, ultra thick and high density models.
Khataland also holds U.S. Design Patent D660,068 as well as various other international patents on the proprietary YoFoMat®. The latest U.S. Utility Patent is another endorsement for Khataland's decade long efforts in creating a portable and durable yoga mat that resembles ancient Yogis' simple and natural way of practice and truly enables today's Yogis to practice yoga anywhere.
About Khataland - Ancient Yoga, Modern Gear
Khataland is a leading provider of innovative yoga and fitness products. The company promotes a healthy and active life style by providing innovative and high quality yoga and fitness products to customers around the world. Khataland's line of products is exclusively designed and manufactured with high quality, eco-conscious materials to be durable, recyclable, waste reducing and long lasting. For more information, please visit http://www.khataland.com.