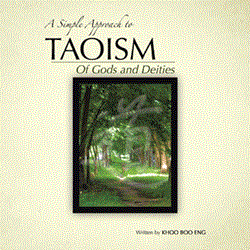 Penang, Malaysia (PRWEB) August 01, 2013
Author Khoo Boo Eng offers readers a simple, accessible resource for gaining a better understanding of Taoism with the publication of his new nonfiction book, "A Simple Approach To Taoism: Of Gods and Deities" (published by Trafford Publishing).
"A lot of the English speaking community (local and abroad) knows very little about Taoism, its culture and tradition," Eng writes, "Even though Taoism is one of the five major religions in the world. This book is written in a vivid and alluring style."
"A Simple Approach To Taoism" is just that: a book written in layman's terms that covers the basic history, concepts and cultures of Taoism. Ideal for anyone seeking a better understanding of the rich cultures of the Far East, this book has unique appeal and offers a wealth of information.
"A Simple Approach To Taoism"
By Khoo Boo Eng
Softcover | 8.5 x 8.5 in | 60 pages | ISBN 9781466931237
E-Book | 60 pages | ISBN 9781466931244
Available at Amazon and Barnes & Noble
About the Author
Khoo Boo Eng has been working in the field of education for 40 years. A graduate of University Science Malaysia, he has taught in a number of Malaysian secondary schools with his last post as deputy principal. He went on to become a lecturer at a polytechnic school in Penang, Malaysia, and is presently a tutor in the Open University Malaysia lecturing his favorite subject, English. In his teaching career, he has written 25 books on the English subject for secondary schools. He was honored twice by the governor of Penang for his contributions to society.
Eng attended a Taoist Initiation course in Taiwan as well as a number of Taoist rituals and ceremonies in Taiwan, Singapore and Malaysia. In some of them he participated as an apprentice Taoshi. This is his first book on Taoism. He hopes to write a book on the history of Taoist temples in Penang in his next endeavor.