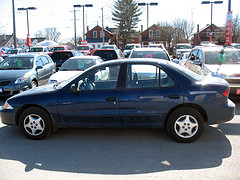 The Rio and Rio5 vehicles that use the 1.6L motor blocks can be fitted with our inventory of used models, and each build in stock comes with a sale price
Midland, TX (PRWEB) May 11, 2015
The partnership between Kia and Mazda in the early 2000s helped produce one of the most requested engine types found in compact vehicles in the U.S. The Preowned Engines company is now including Kia Rio 1.6L engines to its sale priced web inventory this year for consumers at http://preownedengines.com/kia-rio-1-6l-engine.
The inclusion of the Mazda B series 1.6L editions will help people who are planning to buy a replacement motor block this year instead of using a car dealership as a resource. The 4-cylinder models that are now being supplied are original equipment manufactured units that have passed an inspection for quality.
"The Rio and Rio5 vehicles that use the 1.6L motor blocks can be fitted with our inventory of used models, and each build in stock comes with a sale price," said one PreownedEngines.com rep.
The Kia Rio motors inventory that is now being offered at the POE website is now being offered in more than one CID. The I4 1.6L Alpha II versions that were built after the B series Mazda editions are also available and in stock. A person can choose either model during the checkout procedure online.
"The 4-door sedan and hatchback models of the Rio are supported with the replacement I4 inventory that we're now selling," said the rep.
The Preowned Engines company is continuing to provide more support for early 2000s automobile motor blocks this year. More brands of import vehicles are expected to be supported through the distributors now supplying the company inventory in the USA.
About PreownedEngines.com
The PreownedEngines.com company is a leading provider of vehicle motors that are in used condition and sold to consumers in the USA. The company has now lowered its prices to make it competitive for mechanics and resellers to order inventory. The PreownedEngines.com company is giving access nationally to its toll-free number to aid with order processing and VIN number cross referencing.