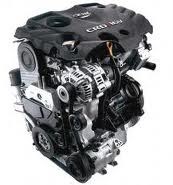 The used Kia engines that we're offering can now be searched using the database of motors that we provide online to shorten the time required for research when comparing engine data online
Las Vegas, Nevada (PRWEB) September 24, 2013
The Kia company is one of the top Korean companies currently exporting vehicles to the U.S. market. The expanded dealerships that are now opening in North America have made it easier for one engine company to obtain Kia USA engines. The Got Engines company is now offering the 2.0 and 2.4 series motors in used condition at http://www.gotengines.com/kia/kia-sportage-engine.html online.
The arrival of these motors is expanding the import engine options that consumers have when replacing a defective or high mileage engine. The company resources currently listed online provide easy access to the complete inventory of foreign motors available for sale.
The Kia engine series has grown in popularity in recent years and many of the units hold a higher resale value.
"The used Kia engines that we're offering can now be searched using the database of motors that we provide online to shorten the time required for research when comparing engine data online," a source for the Got Engines company said.
Consumers who purchase engines for replacement often view the age of the engine and mileage as two factors that can affect the decision to purchase. Some sellers of previously owned engines online do not currently provide warranty coverage for an extended period after purchase.
The Kia engines that are now supplied along with other foreign engines from the Got Engines inventory are now covered with an extended warranty plan. This plan is one of the new features that can be found when visiting the company website.
"The creation of the warranty extension for foreign motors is giving more protection to engine installers and vehicle owners who depend on engines with validated mileage and long-term coverage of OEM parts," the source confirmed.
Aside from the Kia motors announcement, several changes to shipment policies have been announced this year. An update to the freight program announced in the spring of this year is now in effect for buyers.
Buyers purchasing online or through the company telephone number at 1-866-320-1065 now receive complimentary freight for U.S. shipments. This program is slated for continuance through the end of the 2014 year.
About GotEngines.com
The GotEngines.com company retails preowned engine types for prices that are under the manufacturer list price. This company has a complete inventory of Chevrolet, Ford, Dodge, Jeep, Chrysler, Toyota, Honda and other brands of engines in stock. The GotEngines.com resources accessible online are offered to assist consumers with researching any type of engine that is in use in North America. The company search system online is capable of distributing price quotations, warranty details and other information that is essential to completing a purchase through the company ordering systems online or offline.