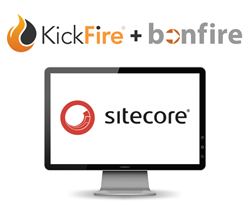 Combining Bonfire's expertise and KickFire's technology, marketers are able to ignite their account-based marketing (ABM) strategy directly within the Sitecore Experience Platform
SAN JOSE, Calif. (PRWEB) July 18, 2019
KickFire®, the premier provider of IP address intelligence and company identification technology, today announces its integration with Sitecore, a global leader in digital experience management software. KickFire has partnered with the leading full-service Sitecore development agency, Bonfire, to bring the power of account-based identification, personalization, and targeting to Sitecore users.
The new KickFire module for Sitecore 9 unites KickFire's IP address intelligence technology and robust database of over 14 million businesses with pre-built Sitecore profiles and profile keys. From within the Sitecore Experience Platform, KickFire allows users to unmask anonymous visitors into identified companies and combine it with relevant account-level data – giving Sitecore customers the ability to identify accounts and trigger personalization, based on KickFire's company firmographic data, such as location, industry classification, revenue, and company size.
Sitecore B2B customers can now leverage KickFire data in a variety of use cases, including:

Viewing company data directly from the Sitecore Experience Platform
Personalizing website content based on company name, industry, revenue, and company size to engage the audience
Deliver first-party intent signals and identify buyers to sales teams
Building lead scoring on target accounts
Create custom experiences for ABM strategy
"We built the KickFire module for Sitecore 9 so that B2B marketers can execute powerful account-based marketing campaigns without the need for custom development," said James Williamson, a Sitecore Strategy MVP & Bonfire Managing Partner.
"Combining Bonfire's expertise and KickFire's technology, marketers are able to ignite their account-based marketing (ABM) strategy directly within the Sitecore Experience Platform," said Maggie Taylor Aherne, KickFire's Director of Operations and Customer Success. "We are deeply committed to providing the best integrations for our customers and that requires working with the best partners."
To learn more about how KickFire's IP address intelligence technology and company firmographic data drives website personalization, account targeting, and more, visit us at KickFire.com.
About KickFire
KickFire is the leader in cloud-based B2B sales automation and IP address intelligence. The KickFire solutions are powered by TWIN Caching, an advanced, proprietary IP-to-company identification technology. TWIN Caching systematically caches and analyzes over 340 undecillion IP addresses, going beyond traditional IP association to uncover last-mile connectivity ownership. KickFire's complete suite of solutions enables companies to tap into their website's invisible pipeline and transform anonymous visitors into actionable sales opportunities. VisiStat, Inc., doing business as KickFire, is a privately held company founded in 2005 and based in San Jose, CA.
About Bonfire
Bonfire is a Sitecore partner with market focus on customer experience management (CXM) and eCommerce. Headquartered in Sarasota, Florida, Bonfire serves mid-market and enterprise clients across the United States. They work exclusively with Sitecore for all customer experience engagements. For more information visit: buildabonfire.com.
About Sitecore
Sitecore is the global leader in digital experience management software that combines content management, commerce, and customer insights. The Sitecore Experience Cloud™ empowers marketers to deliver personalized content in real time and at scale across every channel—before, during, and after a sale. More than 5,200 brands––including American Express, Carnival Cruise Lines, Kimberly-Clark, and L'Oréal––have trusted Sitecore to deliver the personalized interactions that delight audiences, build loyalty, and drive revenue.