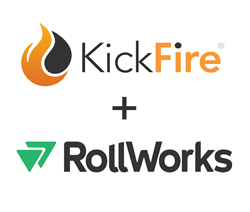 RollWorks is excited to expand our data capabilities through our partnership with KickFire – Mike Stocker, VP of Partnerships at RollWorks
SAN JOSE, Calif. (PRWEB) April 21, 2021
Today, KickFire announced their latest data partnership with RollWorks, a division of NextRoll, Inc., to deliver enhanced account identification and engagement measurement within the RollWorks Account-Based Platform.
"RollWorks is excited to expand our data capabilities through our partnership with KickFire," said Mike Stocker, VP of Partnerships at RollWorks. "We are committed to helping go-to-market teams with their ABM efforts to grow their revenue, and comprehensive and accurate data is a critical part of providing a leading solution."
The addition of KickFire's TWIN Caching® IP address intelligence data strengthens the account data foundation within the RollWorks platform, furthering its ability to provide more accurate first-party intent data which, combined with Account Fit and Account Intent, helps marketers prioritize accounts based on their stage in the buying cycle.
"This partnership aligns perfectly with an industry shift toward IP-based intent tracking and ad targeting. We've admired the team at RollWorks for years, and we're extremely proud to be a core element of such a robust and effective platform," said Tina Bean, KickFire Co-Founder.
KickFire data is now incorporated into the RollWorks platform and available to all RollWorks Account-Based Platform customers.
About KickFire
KickFire is the leader in first-party intent data and IP address intelligence. KickFire's suite of solutions is powered by TWIN Caching®, a proprietary IP-to-company identification technology. TWIN Caching systematically caches and analyzes more than 340 undecillion IP addresses, going beyond traditional IP association to uncover last-mile connectivity ownership. KickFire products enable companies to tap into their website's invisible pipeline and transform anonymous visitors into actionable sales opportunities. VisiStat, Inc., doing business as KickFire, is a privately held company founded in 2005 and based in San Jose, CA. For more information, visit http://www.kickfire.com.
About RollWorks
RollWorks, a division of NextRoll, Inc., offers ambitious B2B companies an account-based platform to align their marketing and sales teams and confidently grow revenue. Powered by proprietary data and machine learning, RollWorks' solutions address the needs of organizations large and small —from those with best-in-class ABM programs to those just beginning their exploration. By empowering teams to identify their target accounts and key buyers, reach those accounts across multiple channels, and measure program effectiveness in their system-of-record, RollWorks is an indispensable platform for marketers and sellers who believe that an account-based approach is just good business. To learn more, visit http://www.rollworks.com.