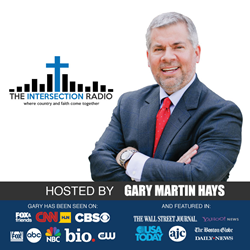 I am very excited to partner with KICKS 101.5 FM and bring 'The Intersection' back to Atlanta radio
DULUTH, Ga. (PRWEB) October 24, 2018
Hosted by Gary Martin Hays, the show will feature uplifting country songs and the inspirational stories behind them.
"I am very excited to partner with KICKS 101.5 FM and bring 'The Intersection' back to Atlanta radio," Gary said. "It's our goal to have a show with a positive, inspirational message for our listeners as they are getting ready for church or are just relaxing at home."
The show will also highlight interviews with country and Christian artists sharing the stories behind their songs and how their faith continues to fuel their music.
"We're happy to have 'The Intersection' returning to Kicks 101.5 providing positive inspiration on your radio every Sunday at 10 a.m. starting November 4th," added Kicks 101.5's Program Director Brian Thomas.
Listeners can submit song requests and their stories of hope and encouragement on The Intersections' Facebook, Twitter, and Instagram pages or by calling the toll-free number 1-844-44CROSS (1-844-442-7677).
About Gary Martin Hays & Associates:
Gary Martin Hays is also an award-winning attorney whose firm has represented more than 40,000 injured victims and their families. Founded in 1993, the Law Offices of Gary Martin Hays & Associates specializes in cases involving personal injury, wrongful death, workers' compensation, inadequate security, and social security disability claims. The firm recently opened a new location at 620 Glen Iris Dr NE, Unit 102, Atlanta, GA 30308. For more information, visit http://www.GaryMartinHays.com.