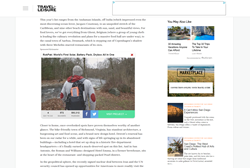 Mount Laurel, NJ (PRWEB) April 29, 2016
Sprizzy's new product will allow Kickstarter campaign creators to promote their Kickstarter campaign video within the body of articles found on prominent blog and publications. The collapsible ad unit is hidden and automatically comes into view once the visitor reaches the halfway point of the article they're reading. Visitors can click from the video, to the advertised Kickstarter campaign, and fund the campaign. The Kickstarter campaign creator (the advertiser) pays each time the video is watched. This ad unit gives the Kickstarter campaign a chance to get the attention of a visitor who otherwise may not have seen or clicked to play your Kickstarter video.
This new In-Article Video ad unit joins Sprizzy's existing promotion method, the Engagement Unit, providing Kickstarter creators additional ways to seek new funders. Sprizzy's proprietary "Engagement Unit" is a widget that is displayed on Sprizzy's partner websites which promotes Kickstarter campaigns. The "Engagement Unit" allows site visitors to watch the campaign video, view campaign details, and share it with friends and family on social media; all without leaving the target website. This model works on a CPE (Cost Per Engagement) basis, allowing advertisers to pay only when a visitor interacts or engages with the campaign.
This new unit also creates an opportunity for blogs and publications to earn incremental revenue as it does not require the website to remove or replace any existing ad placements. With this addition, Sprizzy is furthering its position as the premier promotional platform for Kickstarters.
Sprizzy is currently accepting new Kickstarter campaigns to advertise on its network as well as new partner websites to promote the campaigns. To learn more about Kickstarter promotion with Sprizzy, and how they can help you reach your funding goals, visit Sprizzy.com