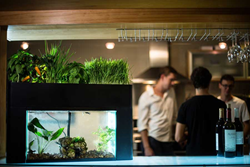 We believe the AquaSprouts Garden will be a home run, both for homeowners and schools." -Sylvia Bernstein, The Aquaponic Source President & Founder
Austin, Texas (PRWEB) September 17, 2014
AquaSprouts, an Austin-based startup dedicated to sustainable living, introduced the AquaSprouts Garden—an elegant and functional desktop aquaponics system that transforms any standard 10-gallon aquarium into a vibrant aquaponics garden. The AquaSprouts team, comprised of student entrepreneurs from St. Edward's University, has partnered with The Aquaponic Source, Grants for Plants, and international distributors to create a compact, self-sustaining aquaponics system that brings fresh vegetables into any home, office, or classroom.
Aquaponics is a closed-loop system in which fish and plants work in tandem to create a symbiotic ecosystem. The AquaSprouts Garden takes these principles and applies them to the countertop, fitting comfortably over any standard 10-gallon aquarium. When fed, the fish in the tank create waste that is pumped into the Garden's grow-bed. Naturally occurring bacteria then break down the waste and saturates the grow-bed with nutrients. This cyclical process produces strong, healthy plants, all while simultaneously cleaning the water for the fish. Made of matte black polycarbonate, the Garden's elegant design will compliment any home, school, or office. Thanks to a partnership with The Aquaponic Source, the leading company in North America dedicated to home aquaponic gardening, the AquaSprouts Garden now boasts an updated design and available educational materials as they strive to bring aquaponics into the home. In order to reach more households, AquaSprouts launched a Kickstarter campaign to raise the necessary funds to produce their Gardens on a large scale.
"The AquaSprouts Garden allows the user to be introduced to aquaponics in a simple, yet innovative, way. Our system upcycles old aquariums and brings new life to the fish tank. With the help of The Aquaponic Source and a seasoned design company, we have created one of the most efficient and stylish desktop aquaponic systems on the market.," said Jack Ikard, AquaSprouts Founder.
After discovering the Garden in early 2014, Sylvia Bernstein and The Aquaponic Source officially partnered with AquaSprouts on its mission to make the Garden more widely available. The Aquaponic Source is helping to provide educational materials for the AquaSprouts Garden and has been instrumental in AquaSprouts' journey into homes and classrooms around the world. Backers on Kickstarter will have the chance to pre-order a specialized Education Kit, including curriculum for the classroom and Sylvia's award-winning book "Aquaponic Gardening: A Step by Step Guide to Growing Fish and Vegetables Together."
"We believe the AquaSprouts garden will be a home run, both for homeowners and schools. There are hundreds of thousands of aquariums out there just waiting to become thriving aquaponic gardens," said Sylvia Bernstein, The Aquaponic Source President & Founder.
AquaSprouts is on a mission to bring aquaponics, healthy-living and sustainability into as many homes and classrooms as possible. They believe that aquaponics is the perfect technology to help solve some of the pressing issues that we face today, including food security and sustainable agriculture. The Garden provides the perfect gateway into sustainable agriculture and practices. Education is an important piece of this goal, which is why AquaSprouts has also partnered with Grants for Plants, a foundation dedicated to connecting schools with aquaponic systems, resources, and educational materials. During the Kickstarter campaign, anyone interested will have the opportunity to donate an AquaSprouts Garden to a school in need through Grants for Plants.
The AquaSprouts Garden is designed to encourage environmental stewardship in a convenient, sleek, and educational way. By transforming a standard 10-gallon aquarium into a self-sustaining source of fresh, organic vegetables, the AquaSprouts team seeks to spread the knowledge of aquaponics around the world.
The Kickstarter campaign will run through October and offers kits starting at $139.
About AquaSprouts:
AquaSprouts is an Austin-based startup that seeks to bring new life to aquariums by combining aquaponics with a spacious design. AquaSprouts strives to increase awareness of aquaponic gardening and it's applications to a modern, healthy lifestyle.
More information about AquaSprouts is available at aquasprouts.com or by email: press(at)aquasprouts(dot)com.