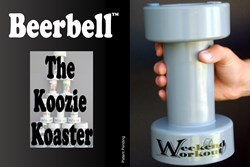 The Beerbell started out to be a fun koozie that helps show great team spirit. Then we discovered it does keep drinks colder, makes a great drink holder since it doesn't tip over, and it floats! - founder Scott VanDyke
Bozeman, MT (PRWEB) September 26, 2013
Have you ever thought, "Can a person actually lift weights while drinking a beer?" Inventor and creator, Scott VanDyke from Manhattan, MT wondered the same thing. Making a duct tape prototype, his first ever barbell koozie became a reality this past year. Scott is using the popular crowdfunding website, Kickstarter, to help launch Beerbell™ to the masses. Click here to pre-order a Beerbell on Kickstarter.
The patent-pending Beerbell, designed to look like a barbell, is a three pound koozie that holds most 12 and 16 ounce cans and bottles. "Fun" is the best way to describe the Beerbell, as it can be customized with any sticker. Adding a favorite college or pro team sticker is like having a trophy in a man cave, office or to show off while tailgating.
"The Beerbell started out to be a fun koozie that helps show great team spirit," says founder Scott VanDyke. "Then we discovered it does keep drinks colder, makes a great drink holder since it doesn't tip over, and it floats!"
After using the Beerbell, Scott discovered that it was not only fun but functional. Since the drink isn't touched with warm hands, the ABS plastic keeps drinks colder.
Weighing three pounds, the Beerbell doesn't tip over easy, so using the Beerbell as a coaster keeps drinks from spilling. It works as the perfect drink holder for camping, patios, at the beach or on a boat. Complete with a weighted bottom, the Beerbell is the first ever floating barbell koozie. Use it in the hot tub, pool, lake or while floating down the river.
The Beerbell launched today on Kickstarter and Scott hopes to raise $7500 by October 25, 2013. The money raised by the Kickstarter campaign will go towards mass production and shipping of the product to backers by mid November 2013. Weekend weightlifters can pre-order the Beerbell starting at just $25, including shipping. All backer names will be included on a special page, Beerbell Heroes, on their website, http://www.beerbell.com. There is also a reward that allows you to earn a free Beerbell.
Head to the Beerbell Kickstarter page to learn more, or back the project today in exchange for one of the first Beerbells. Also, be sure to connect with Beerbell on Facebook and Twitter @BEERBELLSCOTT to stay up-to-date with the crowdfunding campaign and learn about new announcements.
About Beerbell
Scott VanDyke grew up on a dairy farm and managed an 800 cow dairy until five years ago when he started his own dog food delivery business and coffee hut. Scott is a dedicated family man, who prioritizes family events with his wife Corey, being with friends and exploring new ideas along the way.
For additional information about the Beerbell™, please contact:
Scott VanDyke
Creator and Founder
Email: beerbellscott(at)gmail(dot)com
Website: beerbell.com
Press Website: http://beerbell.info/Press.html