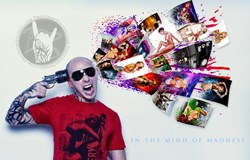 Many famous artists have been given their chance and gifted with funds or brought into the tight circle of success.
Phoenix, Arizona (PRWEB) October 15, 2013
In hopes of completing production of his long-time coming project, Daveed Benito acquired the services of Kickstarter to garner support for his documentary, "The Evolution of an Artist." With less than 3 weeks remaining, Benito is hoping for supporters to help him meet the $15,000 funding goal.
This documentary will be showing the life of an artist and providing perspective on how someone with enough ambition and drive can be successful without being born into wealth or celebrity status. "Many famous artists have been given their chance and gifted with funds or brought into the tight circle of success. Only very few in this world have actually earned it." He further explains, "Your contributions will help me pay for essentials for the filming process; videographer, assistants, travel, editor, minor equipment, etc. With $15,000 I am at the very minimal needed to complete this process but it will be complete."
Pledges to the campaign will be rewarded with DVDs, autographed posters, and the opportunity to even be one of the subjects of the documentary and be on the set for one of the photo shoots being produced for the documentary. Anyone who contributes $10 and up will receive a password to an online gallery where I will be posting exclusive behind-the-scene photos and video of the entire filming.
Over one hundred hours of footage will be included in the editing, which dates back to his first days as a photographer. This will emphasize the starting points of the journey. During this process, Daveed will be interviewing people he works with. Fortunately, he has had the opportunity to work with people in many creative fields and will not be only interviewing but showing their creative process as well - Artists such as painters, graphic artists, other photographers, tattoo artists and even the models and subjects.
Daveed just wrapped up a photo project this month with Grammy award winning artist Mya. From what's being said, the singer couldn't be more pleased. Daveed was humbled when Mýa agreed not to be only interviewed for the documentary, but allow behind-the-scene footage be captured during the photo shoot. Keep in mind, Mya knew what she was in for, but the audience will have to wait to see what type of an epic "mess" was made for her set.
This so called "lunatic artist" is known for what he refers to as "Messes" are his typical photo shoots. On a weekly basis, Daveed is working with a willing subject that is all about the creative process, sometimes this entails explosions of fire, cold water and colorful paint being hurled at these subjects. The individuals he works with are always coming back for more, with addictive results. Heather Moss, a close friend of Daveed's, knows the madness in his not so methodical way of creating photographic art. Heather Moss has graced the covers of most major tattoo magazines in the world and is known for not only her beauty as a model, but her intense tattoo work done by husband Bobby Moss. Heather recently recapped some of the photo shoots she was a part of with Daveed directing. Clearly, she enjoys the creative madness. "He's fascinated with making a beautiful mess and once almost set me on fire! But I trust his talent" says Heather. Business associate and Grammy award winning producer, Damon Elliott, agrees and refers to Daveed as "a crazy creative mind," but never hesitates to place celebrities in his path with the knowledge that something amazing will be created.
This self-started, self-taught mad scientist of an artist has figured out how to keep up with his crazy antics and bring it to a business sense. Daveed Benito is an internationally published photographer who has been capturing breath taking images since 2006. "When I started, I had no clue what I was doing or how to even operate a camera, but I knew if I remained confident my clients would keep paying me for photography services," he stresses. Starting from what he calls a "long shot," Daveed Benito found himself attempting to learn the basics of photography with no formal education, guidance or money. Most photographers in the industry have attended some sort of training or had a mentor to help shape their eye for artistic photography, but not Daveed. With no money, funding or support from others in the industry, he found himself at the edge of a cliff with the option to continue on familiar land or take a giant leap of faith. His leap was much of a free fall for most of his short career, but Daveed kept finding ways to gain an audience and keep people watching his photography which has kept him flying. Failure has never been an option to this New Mexico native, who now resides and operates in Arizona. It's apparent that this artist understands not only a struggle, but a fight for his passion. His risk has been slowly paying off in the form of trending popularity and respect from recognized artists.
Currently supporters can find Daveed's work at the well-known Spencers gifts stores in large posters, along with the Goddard gallery in Las Vegas, but it doesn't end there. His work is displayed in many establishments from Florida to Los Angeles with his work trending quickly.
To learn more about Daveed Benito's work and lend support to this incredible project please visit the Kickstarter page and connect with him on Facebook, @DaveedBenito, and YouTube