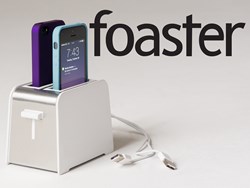 foaster reduces clutter on your countertops and looks great alongside high-end kitchen appliances.
Lexington, KY (PRWEB) November 20, 2013
Covena Design, a Lexington, Kentucky based firm has launched foaster™, "a toaster for your phones" on Kickstarter. The crowdfunding campaign aims to raise the funds needed to get foaster into production. The product looks great alongside high-end kitchen appliances, reduces clutter on countertops, and allows for convenient one-handed docking and undocking of your iPhones.
Designed by Mike Charles, a Mechanical Engineer and former Research Assistant at MIT, foaster blends form and function- resulting in a sleek and minimal aesthetic with exceptional functionality. Key features include built-in lightning connectors and "slots" designed to fit iPhone 5S, 5C, and 5's with or without standard-sized cases. The body of foaster also allows for internal storage of un-needed cord length, exposing only enough cord to reach the nearest power outlet.
Visit the foaster Kickstarter Campaign: http://www.kickstarter.com/projects/covena/foaster-the-best-dock-since-sliced-bread-iphone-5s.
"The idea for foaster was sparked by a request from my wife. She was frustrated by the clutter resulting from charging our two iPhones on our kitchen counter. She called the tangled mess 'cord spaghetti' and challenged me to find an elegant solution to charging our phones in the kitchen," said Mike Charles.
The product is available in four color combinations that coordinate with the beautiful design of the iPhone. foaster is available with a white or black body highlighted by a striking aluminum trim panel in either natural silver or champagne-gold tones. The depth of the "slots" is optimized to allow viewing of incoming alerts, reminders, and text messages. The steel base and rubber feet keep foaster in place when docking and undocking your phone, facilitating one-handed operation.
Covena Design plans to manufacture foaster in the US and is working with manufacturing partners in California, Minnesota, and Kentucky to produce components at the highest levels of quality. Covena is offering foasters to backers of the Kickstarter campaign at special "early bird" pricing of $79 (including US shipping). The first production run is expected to ship in March 2014.
For more information, visit http://www.foaster.com.
High resolution images are available at: http://www.foaster.com/press.