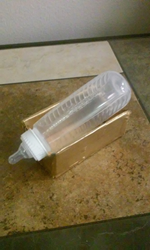 Action Jackson Trucking Company's Kickstarter Campaign is Mother's Bliss
Boron, CA (PRWEB) May 17, 2015
Action Jackson mostly deals with trucks and tractor related work, but this amazing Mother's Bliss baby bottle holder is quite unique. In deciding to proceed with a program that has practically no resemblance to the kind of work the company is known for, it has also taken risks and faced challenges, right till the end of the final creative stage.
In an effort that deserves to be applauded, Action Jackson has many reasons to proceed with Mother's Bliss.
As the world's first baby bottle holder that not only helps in the baby feeding process but also induces sleep patterns, there are other qualities that make this an outstanding product. It glows in the dark, and easy-to-find without having to turn on the lights. It also has a wind-up music box with calming lullabies to help any baby sleep. The bottle is also changeable even when the baby sleeps and the baby's light movements will not upset the bottle holder's position.
At a recent press meet, a truck driver of this company named Henry Jackson said, "I'm quite positive about the outcome of the project. It feels great to be a part of the Kickstarter Campaign and this time for a lightweight bottle holder that is very easy to use. Never before did our company back up a project related to families' interest. But it was the concept that appealed to us the most. We are confident that despite operating on localized levels in the US, our company can face the obstacles arising out of this program, if any and continue rendering support."
Action Jackson Trucking Company has certainly proven an example before others by getting started with the Kickstarter Campaign, which can be viewed at http://www.kickstarter.com/projects/1100173994/mothers-bliss.
About the Company
Action Jackson Trucking has primarily dealt with transport of cargo, freights and supplies so this campaign is a very new experience.
For more information, visit http://www.kickstarter.com/projects/1100173994/mothers-bliss
Alternatively, you can get in touch with the company by calling at 970-342-5622 or by emailing at henry(dot)jackson539(at)gmail(dot)com.
ACTION JACKSON TRUCKING:
City: Boron
State: CA
Post Code: 9351
Country: United States