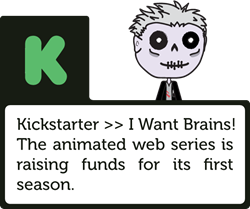 Animated web series fill the gaps in engaging learning content for pre-teens who use the internet as their main resource.
Toronto, Ontario (PRWEB) October 04, 2016
Pototo Studies has found a way to tap three trends simultaneously: 1) the rise of edutainment; 2) the growth of crowdfunding, and 3) a dynamic creative freelance community.
Young animation studios are using Kickstarter to launch their edutainment videos on web platforms such as Vimeo and YouTube. Animated web series fill the gaps in engaging learning content for pre-teens who use the internet as their main resource.
*Educational Videos and Animation as Entertainment*
It's easy to understand why video consumption and animation in learning and entertainment are on the rise. Videos and animation have the ability to capture our visual and auditory senses and maintain that engagement. Because of this, video consumption—either via television programming or online—is already an integral part of daily life.
In education, video plays an increasingly vital role. From informal learning on YouTube to formal video series on paid platforms, educational video content is becoming practically ubiquitous. Students can learn at their own pace and complement their in-class studies.
Recognizing this, young animation studios the world over are taking advantage of improved technology platforms and building talented teams to create excellent and engaging animated web-series. With enough grassroots support, these studios can enter a space that has been totally dominated by large networks and (sometimes lumbering) educational institutions. Pototo's Kickstarter campaign intends to do just that.
*Animated Video on the Rise in Learning*
We learn through attention, association, and review. Animated web series have a clear application as supplementary and complementary resources for students and teachers. For example: should a teacher want to ensure students understand key theories regarding the Viking expansion into greater Europe or how plants go about obtaining nutrients, a short animated web series can solidify concepts introduced verbally. Students can watch content either in class or at home.
*Creating Content for Young Teenagers*
Pre-teens and young teenagers have grown up in a world filled with video content. If follows by implication that they more naturally engage with it than adults. That said, there are gaps to fill in engaging learning content for 10 to 14-year-olds—arguably the most difficult age demographic to serve successfully. From an educational viewpoint, animated web series are part of the solution to fill the complementary learning needs of this group.
Animated web series incorporate narrative elements like colorful characters and linear stories to pique interest and hold attention. They're more fun, lighter, and—perhaps counter-intuitively—more memorable than other instructional forms. Powtoon, Prezi, and GoAnimate offer teachers the ability to create content, but the carefully-tailored content created by professionals creates stronger and more positive outcomes. Animated series are not geographically locked; they hold the additional advantage of flexibility across both language and culture.
*Crowdfunding edutainment*
Developing a quality product that engages 10 to 14-year-olds requires a clear understanding of pedagogy, how to build learning content, and how to coordinate teams of animators, voice actors, scriptwriters, sound designers, and editors. Pototo Studios, run by Eddie Ramirez, is involving university students in Guatemala in its creative process. By merging experience and exposure, talented students gain an opportunity to showcase their work, while the studio improves the quality of its educational content. Their first product, I Want Brains, is being showcased on Kickstarter. Their combination of social responsibility and creative approach to animated content creation is an absolutely unique offering and worth supporting.