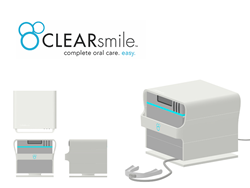 I want to express my heart-felt thanks to each and every one one of our backers for supporting CLEARsmile. This has been a dream of mine for a long time, and with your help it's going to become a reality.
Atlanta, GA (PRWEB) September 23, 2014
CLEARsmile, a new oral hygiene device invented by Dr. Igor Reizenson, has surpassed its funding goals on Kickstarter by over 300%. With 17 days left of the crowd-funding campaign, Dr. Reizenson has decided to announce a new reward level for backers, as well as a stretch goal that will benefit everyone who has pre-ordered a device.
"I want to express my heart-felt thanks to each and every one of our backers for supporting CLEARsmile," wrote Dr. Reizenson on the first campaign update announcing the stretch goal. "This has been a dream of mine for a long time, and with your help it's going to become a reality." The project successfully hit its goal of $16,500 within 48 hours, which shows the strong need for a device like CLEARsmile.
If the campaign raises $100,000, then everyone who contributes at the $99 level and up (which includes one device at half the retail price), will receive stretch goal rewards. This includes an increase to the number of mouthpieces each order will receive, in addition to how many cleaning tablets:

8 mouthpieces instead of only 3. This will include 2 of each size (2 large, 2 medium, 2 small and 2 child-size). This is perfect for families who would need additional mouthpieces.
6 additional months supply of cleaning tablets, totaling 8 months supply (when used twice a day).
In addition to the stretch goal, a new $500 reward level was announced. Those who contribute $500 or more will receive three CLEARsmile devices, each with a two years supply of cleaning tablets and 2 mouthpieces of each size. Each device will also be signed by the creator and you will receive a hand-written letter of gratitude for the contribution. This level is perfect for someone who may need a additional devices for elderly parents or young family members.
The CLEARsmile device uses pressure washing and specially developed micro-bubble technology to clean the teeth and gums at every angle simultaneously. It uses a mouth piece and micro-bubble tablets to blast and dissolve bad dental bacteria easily from every nook and cranny. First, the appropriate-sized mouthpiece is placed in the mouth, the desired pressure is set on the device, and the solution is pumped through the tube out of out hundreds of tiny orifices in the mouth piece. The device is on a timed cycle so that the right amount of solution is used depending on the size of the mouth piece.
The crowd-funding campaign ends on Friday, October 10. For more information about CLEARsmile, please visit http://www.clearsmileonline.com. To visit the Kickstarter campaign and pre-order a device, click here.
About Dr. Igor Reizenson:
In 2001, Dr. Reizenson received his DDS (Doctor of Dental Surgery) from the State University of New York at Buffalo School of Dental Medicine. He then advanced to the prestigious General Practice Residency Program at Veterans Hospital of Western New York. In 2007 Dr. Reizenson was recognized by the History Channel's "Modern Marvels" as one of America's top 25 inventors of the year for a patented oral hygiene device called ClearSmile. He is the founder and CEO of ClearSmile LLC. Dr. Reizenson is a long standing member of the American Dental Association, as well as the Georgia Dental Association.