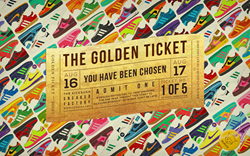 We are so excited to be able to host this national giveaway and connect with people who share our passion while offering the chance for 5 sneaker fans to win something that has never been heard of before - Minna Hyon, Operations Specialist, KicksUSA.com
Philadelphia, PA (PRWEB) August 19, 2016
To celebrate the end of summer and the beginning of nee school year KicksUSA.com is hosting a giveaway unlike any ever before - 5 lucky winners will receive a new pair of sneakers every month for an entire year. That's $1,800 in shoes for EVERY winner. There's no cost to enter and you have nothing to lose, just 12 new pairs of shoes to gain.
KicksUSA is currently running this one of a kind chance to win brand new shoes for a year! Launched on August 5, the Golden Ticket campaign is announcing a new Golden Ticket winner each week during the contest.
The final three winners will be announced on August 19th, August 22nd, and Friday, August 26th via various social media platforms. With winners already having been announced via the KicksUSA Blog and Twitter, the upcoming announcements will be made via Instagram, Facebook, and the KicksUSA website.
Are you really into sneakers? Whether for playing basketball, running, or even just hanging out around town - nothing feels better than a new pair of comfortable designer sneakers to complete your outfit.
Be sure to visit http://www.kicksusa.com/golden-ticket for contest details and to enter.
KicksUSA is the only urban footwear and apparel company founded in Philadelphia and actively giving every customer a chance to get their favorite pairs of sneakers for the year without purchase. KicksUSA has established a brand and culture that is focused solely on providing the utmost care to their customers, and with the Golden Ticket campaign, KicksUSA is once again giving back to their community.