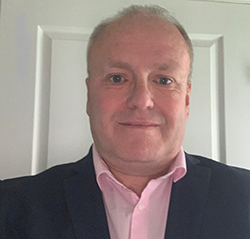 I am extremely fortunate to join such an innovative, technology-driven organization.
AUBURN, Maine (PRWEB) September 18, 2019
KICTeam Inc., the industry-leading technical cleaning company today announced that Duncan Fielding has been named Head of Europe, signifying the company's continued commitment to the European market place.
Mr. Fielding brings deep industry knowledge to the role, gained from experience in business development roles for industry players such as Argus TrueID, Crane Payment Innovations, and Panasonic. He is a specialist in developing strategic partnerships and will be tasked with growing KICTeam's European footprint, focusing on the banking, retail and hospitality sectors.
President & CEO, Ian McCormick commented: "We are excited to appoint Duncan to head up our growing European business. Duncan brings great experience and energy to the role and will be focused on developing OEM and Distributor relationships across Europe. KICTeam have enjoyed significant growth in recent years and this is an important next step in our Company's development."
Commenting on his new role, Mr. Fielding added: "I am extremely fortunate to join such an innovative, technology-driven organization. The company's leadership, employees and customers share a uniquely collaborative culture that combines expertise with a results-driven focus. The opportunities ahead, collaborating with industry leaders in growing segments in need of smart, tech-forward solutions, are clear. Together, we envision 2020 as KICTeam's most significant expansion, since the company's start, over 45 years ago."
KICTeam, with offices in the US and Europe, creates proprietary and patented cleaning solutions designed to enhance the performance of tech devices in fast-growing industries. The company adapts its innovations to specific devices, powering the world's most successful businesses in Banking, Retail, Healthcare, C-Stores, and Gaming. Leveraging 20+ years' experience and 50+ OEM relationships globally, KICTeam's exclusive programs and products deliver enhanced business performance and unmatched customer experiences. http://www.kicteam.com