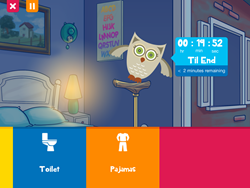 Kid-Do Activity Timeline helps kids get things done.
New York, NY (PRWEB) April 01, 2014
Gepemat LLC announced today that an enhanced version of its popular Kid-Do Activity Timeline app will be available for both iOS and Android devices starting April 1. The updated app will allow parents to better manage their kids' bedtimes and transitions with new features, more flexibility and enhanced graphics.
Experts recommend that parents establish routines for children (e.g., a morning or bedtime routine) and prepare them for change (e.g., "five minutes until we leave") to ease through transitions. But children still struggle because they do not fully understand the meaning of time and are therefore surprised or frustrated when transitions happen.
The Kid-Do Activity Timeline facilitates routines and transitions with child-friendly visual aids that show the passage of time. Parents can customize routines, whether going to bed or getting out the door, by setting the order and duration of over 50 different typical kid activities (e.g., get shoes on). These activities appear as a horizontal time line that a sweet-faced owl flies over to show time progressing. Children can then see all the activities they need to accomplish, the length of time for each, and how much time is left before the next transition. They can also see that if they accomplish the necessary tasks efficiently, they have more time for the fun stuff.
Dr. Aly Mandel, Child Psychologist and spokesperson for Gepemat, said, "With even with the best routines, children don't feel they have control over what's happening, which can lead to resistance. If you can show – rather than explain – the time left before the next transition or task, it goes a long way toward cooperation."
Since its release in November, parents have been reporting success using the timeline for bedtime, morning preparations, timeouts, taking medicine, cleaning up and separation at school.
Dr. Mandel added that the timeline helped her own children understand that by accomplishing the things they didn't want to do quickly, they had more time to play. She also said that the timeline could be particularly useful to help special needs children.
The Kid-Do Activity Timeline is available for iPad: https://itunes.apple.com/us/app/kids-activities-kid-do-timeline/id730188730?mt=8 and Android https://play.google.com/store/apps/details?id=com.app.kiddotimeline.
The app costs US$1.99. For more information, visit http://kid-do.net.
About Gepemat LLC
Gepemat LLC is a provider of technology-based solutions for parents, committed to empowering parents and children with smart, interactive tools. Founded in 2013, Gepemat LLC is run by a husband and wife team. They have three children, ages six (almost seven), four (and three quarters) and 21 months.
####