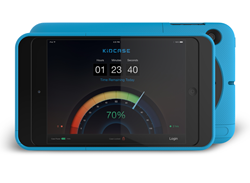 KiDCASE is its own device, locked around the iPad, so it is 100% effective and reliable. It's the only way these features are possible at this time.
Lake Parsippany, NJ (PRWEB) May 05, 2015
KiDCASE is launching a Kickstarter project on May 13 to raise funds for a new line of iPad cases that seeks to provide parents of young children with a solution for managing iPad usage. With KiDCASE, parents can set daily time limits for how long their kids can use their iPads- when time is up, the case actually turns the device off and doesn't allow it to be turned back on until the next day.
In addition to disabling the iPad when the time limit is reached, KiDCASE also allows parents to schedule certain blocks of time that are off-limits, such as after bedtime and weekday mornings before school. During those times, the iPad won't be able to turn on. Recognizing that parents need flexibility, it's easy for them to reward their children with additional iPad time via the companion app.
"I came up with the idea for KiDCASE after seeking a solution for the amount of time my own kids were spending on their iPads each day – and then realizing that there was no effective answer short of moving them to Android devices," said Dave Einzig, founder of KiDCASE. "Due to Apple's closed operating system, apps have no way of knowing when an iPad is being used, nor can they shut the iPad down when it shouldn't be. KiDCASE is its own device, locked around the iPad, so it is 100% effective and reliable. It's the only way these features are possible at this time."
Beyond monitoring and moderating usage, parents will also be able to use KiDCASE as a tool for motivating their children to spend more of their screen time using learning and education-based apps. This feature is called Bonus Time, and it enables parents to decide how much "do anything you want" time their kids can spend on their iPad and then allow them to make the choice of using educational apps to earn their extra time each day. KiDCASE will be distributing their SDK to all approved app developers so they can easily make their content compatible with KiDCASE.
"In my experience, children like using their iPads for learning, and there is truly fantastic content out there in the form of educational games," said Einzig. "They just need a reason to make those choices more often and extra iPad time is the ultimate motivator for them."
KiDCASE was also specifically designed to be the ultimate case for young users. Its solid structure is protective enough to be kid-proof, it has a sturdy kickstand so parents can finally move their children to healthier good posture positions at tables and counters, and it can even be personalized by children with an almost limitless number of custom skin designs. The first line will include one case design for the iPad mini 1, 2 and 3, plus another for iPad 2, 3rd and 4th generation. It is expected to be available at retail fourth quarter 2015 at an estimated price point of $89.95. Einzig is looking to raise $50,000.00 on Kickstarter to begin KiDCASE tooling and manufacturing as soon as possible.
For more information about KiDCASE, visit bitly.com/KiDCASELP or http://bit.ly/kidcasemedia.
About KiDCASE
KiDCASE is an Apple licensed mobile device accessory company, based in Lake Parsippany, NJ. They provide solutions for parents and caregivers to tackle the unique new challenges of raising children in this digital age. For more information, visit http://www.kidcase.com. Please like us on Facebook, and follow us on Twitter.