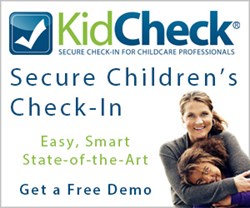 The workshop is designed to cover a broad range of children's safety and security topics.
Boise, Idaho (PRWEB) October 22, 2013
KidCheck, provider of secure children's check-in software, today announced it will be leading a video workshop entitled "Improving Child Safety in Your Organization" at the Children's Ministry Websummit. The Children's Ministry Websummit is a free, online ministry conference taking place October 28-30, 2013. The Websummit is an online video streaming conference giving churches the opportunity to obtain valuable information and resources from top children's ministry leaders without needing to travel to attend.
KidCheck's "Improving Child Safety" workshop is designed to provide churches with insight on the leading concerns around child security and safety. The video features Alex Smith, CEO of KidCheck, and delivers useful, actionable ideas and best practices to help churches create a safe environment for the children in their care and minimize any possible safety and security issues.
"The workshop is designed to cover a broad range of children's safety and security topics," said Alex Smith, KidCheck CEO. "Implementing a system such as KidCheck's easy-to-use children's check in software is just one of the ways churches can improve security in their children's ministry."
Topics in the video workshop include facility security, volunteer and staff security tips, safety policies and procedures, general childcare safety, implementing security teams, and how to handle emergency situations.
"We're excited for the opportunity to share this workshop at the Children's Ministry Websummit," continues Smith. "I look forward to sharing both the broad wealth of child safety knowledge KidCheck has gained over the years, as well as my own experience as a former police officer. The goal of the workshop is to share new ideas and best practices with churches that they can successfully implement in their ministry to increase overall security."
About KidCheck
KidCheck, Inc. provides secure, web based children's check-in software and complete check-in station solutions for churches and child care professionals. KidCheck is committed to delivering easy-to-use, reliable and secure check-in systems backed by expert, personal service and support. To learn more or to sign up for a demo visit http://www.kidcheck.com.