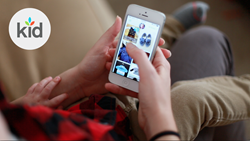 "I prefer buying and selling among other parents like me. It's more personal. I also like knowing that my things are going to someone who will love and appreciate them as much as I do. It makes it easier to let them go."
Minneapolis, MN (PRWEB) February 19, 2014
Kidizen, today publicly launched a new mobile marketplace for parents to buy and sell gently used children's clothing, accessories, and more. With this new iPhone app, parents now have a marketplace that provides curated content based on fashion sense and size-appropriate choices for their children, all within a community of trusted peers. Kidizen is founded by parents Mary Fallon and Dori Graff who bring their rich history of brand building and marketing for large retail brands such as Disney, Target, and Levis, and is led by CEO Dug Nichols, former Tellme Networks and Microsoft director. The company is seed-funded by Emil Michael of Uber and other angel investors.
Early Research and Private-Beta App Showed Strong Growth Opportunity
The founders of Kidizen had grappled with something to which all parents can relate — what to do with all those beloved kids' clothes, toys, and just stuff that accumulates and finding new ones to fulfill their child's ever-changing needs.
At the same time that Kidizen was testing with their private-beta app, buy-sell-trade communities on Facebook and Instagram were starting to explode. Further research and testing confirmed that parents wanted to move away from the impersonal nature and lack of selectivity of larger marketplaces such as eBay and Craigslist to find a well-curated, highly personal community with style.
Co-founders Mary Fallon and Dori Graff, and CEO Dug Nichols recognize that parents have unique challenges when it comes to making purchases for their kids. As a parent herself, Graff comments, "We are constantly on the hunt for something our kids need, and at the same time, we have all of the stuff they've outgrown that needs to go somewhere." According to Fallon, also a parent to two young ones, "Kids go through seven sizes in the first two years — it's hard to keep up as they move from the next size, to the next season, to the next style."
Their market research supported their instincts. The Kidizen team found that the average U.S. family spends more than $100 per month on clothing, toys and accessories for their children.[1] Factor in the more than 35 million households with children in the United States alone[2], and the overall market for kid-related items is substantial.
Nichols adds, "There's a certain fluidity with these things as they move in and out of our lives. We need access to them, but it's not practical to hold on to them for the long-haul." Consumers agree: 18% of Americans shop at thrift stores in a given year[3], and the trend is likely to grow as Americans increasingly realize that purchasing used items is good not only for the environment (by reducing waste and the associated manufacturing energy) but also good for parents' pocketbooks.
After Extensive Testing Kidizen Launches to the Public February 2014
After several months of rapid iteration and testing with a private-beta app, the team honed in on the perfect combination of features to create the new Kidizen app. The beautifully designed app uses community features and a unique Kid Filter to make it easy for parents to find items for their kids that match style and taste preferences, and provides an ongoing feed of curated selections that grow with their kids over time. It includes PayPal integration, so shoppers can safely make purchases and sellers can track orders and create shipping labels. And the mobile interface provides simple "tap and list" functionality for easy selling and listing of items for any parent.
Joan Park, a New York City mom and Kidizen app user explains, "It's really great because my daughter … there's no way she can wear all this, and it doesn't wear out. So I would love to let someone else get the life of the clothes, and then also get something back so I can invest in expanding her wardrobe for later seasons."
Items listed on Kidizen are generally higher quality goods for which parents can see a return on their decision to pay a premium for quality. Park adds, "It's a separate pile, the level-A stuff," Park notes. "It's worth my time to put it on the Web, and people will be attracted to it."
Kidizen has found a niche for which many parents appear thankful. Nora McInerny, a Minneapolis mom explains, "I prefer buying and selling among other parents like me. It's more personal. I also like knowing that my things are going to someone who will love and appreciate them as much as I do. It makes it easier to let them go."
The Kidizen app is currently available in the iTunes App Store:
https://itunes.apple.com/us/app/itizen/id395245595?mt=8
About Kidizen
Kidizen is the community marketplace that connects parents with one another for buying and selling pre-loved clothing, accessories and more. Kidizen is owned by Itizen, LLC, a private company based in Minneapolis, MN. For more information visit http://www.kidizen.com
For more information, contact:
Dori Graff, co-founder and Chief Marketing Officer
dori(at)itizen(dot)com
612-987-0284
[1] 2 3 http://www.narts.org/i4a/pages/index.cfm?pageid=3285