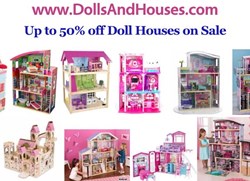 Some newer KidKraft Dollhouses are still not well known. However, they are some of the most feature rich in the current market.
Los Angeles, CA (PRWEB) November 22, 2013
There are many different brands of dollhouses. However, those from KidKraft and Barbie remain the most popular. When it comes to variety, KidKraft comes out the winner as they have over 25 models in the market. The fact that almost every KidKraft dollhouse is wood-based and eco-friendly compared to some others that are completely plastic and synthetic, is another secret of their success.
10 BEST KidKraft Dollhouses by http://DollsAndHouses.com/ lists and reviews 10 of the most popular models from their collection. These include very popular models like the Majestic Dollhouse, Modern Mansion, So Chic Dollhouse, Annabelle etc. as well as models that are not so well known amongst the masses, yet have won excellent reviews and ratings from current users like the Amelia doll house, Dora The Explorer and Kidkraft Suite Elite Dollhouse. Complete details of these houses and current sales and special promotions can be found on http://DollsAndHouses.com/Top-10-KidKraft-Dollhouses/.
2 things to look for when buying a dollhouse explained:
Whether it's a KidKraft, Barbie, Melissa and Doug, Fisher Price or any other brand, there are a few criteria one can look at to make sure they get the best value for their dollar. A dollhouse isn't complete without furniture or dolls. With most dollhouses, the furniture has to be bought separately. But in some rare cases, more than 30 pieces of dollhouse furniture is included together with the purchase of the house. This could be up to $100 in savings. This is why it is always recommended to buy one that comes with the miniature furniture. The second feature is the material that has been used to construct the doll house. Most Melissa and Doug, and KidKraft dollhouses are wooden-based. Sure they have a little bit of plastic (e.g. molded staircase etc.), but they are mainly composite wooden structures. In contrast, the Barbie Dream House is almost exclusively plastic. At least from an environmental standpoint, plastic is not as good as wood and there are many people that think the thin plastic feels cheap.
Over a dozen under $100 houses listed:
Most KidKraft Doll houses are priced $100 - $200. However, there are a few that are priced less than $100. These Budget KidKraft dollhouses under $100 have been listed together with a few others that meet the same price cut-off. Even though these are categorized as 'budget', they are of high-quality, but are usually smaller than their more expensive cousins (certainly smaller than the custom made life-size dollhouses).
Barbie houses also reviewed:
In addition to reviews on the best KidKraft dollhouses, they also review the TOP 5 Barbie doll houses on http://DollsAndHouses.com/Barbie-Doll-House-Top-5-Barbie-Houses/. These are highly recommended reading material for anybody considering purchasing a Barbie, KidKraft or any other dollhouse.