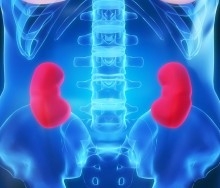 Dr. Allen's therapeutic device is able to dissolve kidney stones of any type without complications in the future.
London, Grear Britain (PRWEB) September 02, 2013
Kidney stone surgeries and extracorporeal shock wave lithotripsy (ESWL) remove renal calculi in a way that can damage kidney tissue irreversibly. Moreover, they do not treat kidney stones disease, making the recurrence of renal stones common. In contrast, the therapy enabled by Dr. Allen's Device dissolves any type and size of kidney stone naturally. It is especially important, notes Fine Treatment, as a recent article says kidney stones cases in women are on the rise: for instance, in 2006 – 2009, the incidence of the disorder rose from 289 to 306 per 100,000 people.
The article 'Women at Increasing Risk of Kidney Stones, Related ER Visits', in the Science Daily, August 26, 2013, reports, "The risk of women developing kidney stones is rising, as is the number of cases being seen in U.S. emergency departments, while the rate of hospitalization for the disorder has remained stable."
"While the number of patients visiting the emergency department had increased over that time period, it was women who had the greatest increase in visits," says Khurshid R. Ghani, M.D., of Henry Ford's Vattikuti Urology Institute, Detroit, Michigan, USA. "Women are becoming more and more obese. Obesity is a major risk factor for developing a kidney stone. And one fascinating thing about women versus men is obese women are more likely to develop a stone than an obese man."
Hot days can lead to dehydration and to a higher risk of kidney stone formation. People ought to remember that a kidney stone removal procedure with ESWL increases the risk of both diabetes and hypertension, according to the study, 'Diabetes mellitus and hypertension associated with shock wave lithotripsy of renal and proximal ureteral stones at 19 years of followup', by Krambeck A.E. et al., 2006.
Contrary to ESWL, the Thermobalancing therapy enabled by Dr. Allen's Device eases the symptoms of kidney stones at first, gradually dissolving kidney stones over time. Dr. Allen's Device places natural thermo-elements to the back covering both kidneys. It improves blood circulation, letting the blood to cleanse the kidneys from the stones naturally. Watch the video here: http://www.youtube.com/watch?v=5Wo0BQ24D6U.
"It is really easy is to use Dr. Allen's device. It helps to avoid nasty complications after ESWL, such as high blood pressure or diabetes," comments Dr. Simon Allen. "Dr. Allen's therapeutic device is able to dissolve kidney stones of any type without complications in the future."
Read more at:
http://finetreatment.com/kidney-stones-treatment-kidney-stone/.
About Dr. Simon Allen and Fine Treatment:
Dr. Simon Allen, MD, PhD is a highly experienced medical professional. His specialty is in the internal medicine. He has treated a wide range of chronic diseases, including patients after a heart attack, with kidneys problems, including kidney stones disease, prostate and spine conditions, as well as metabolic disorders. Fine Treatment exclusively offers Dr Allen's devices for chronic prostatitis and BPH treatment, coronary heart disease, dissolving kidney stones, as well as back pain and sciatica relief.