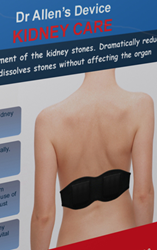 Dr. Allen's therapeutic device dissolves kidney stones and prevents their formation in the future.
London, GB (PRWEB) November 22, 2014
The American College of Physicians (ACP) has issued new, evidence-based guidelines on the comparative efficacy and safety of dietary and pharmacologic strategies to prevent recurrent kidney stones in adults, states a recent article in the Medscape. Treatment of recurrent kidney stones with extracorporeal shock wave lithotripsy (ESWL) and surgeries increases the risk of high blood pressure, diabetes and chronic kidney failure later in the life. That is why Dr. Allen's Device that dissolves any type and size of kidney stones in both kidneys naturally should be used in the first place, Fine Treatment reveals.
The article 'Dietary and Pharmacologic Management to Prevent Recurrent Nephrolithiasis in Adults,' published in the Annals of Internal Medicine on November 4, 2014, says that to prevent the recurrence of nephrolithiasis should be achieved by both dietary changes and appropriate pharmacologic approaches. Dietary changes include increasing water intake, reducing dietary oxalate, reducing dietary animal protein and other purines, and maintaining normal dietary calcium. And pharmacologic monotherapy includes a thiazide diuretic, citrate, or allopurinol.
According to the article 'Recurrent Kidney Stones: ACP Issues New Guidelines,' dated November 4, 2014, in the Medscape, ACP President David Fleming, MD, said in a news release the following: "Increased fluid intake spread throughout the day can decrease stone recurrence by at least half with virtually no side effects. However, people who already drink the recommended amount of liquids, or when increased fluid intake is contraindicated, should not increase their fluid intake."
Regarding pharmacologic monotherapy with a thiazide diuretic, citrate, or allopurinol, the article says that it is a weak recommendation based on moderate-quality evidence. Moreover, all these drugs were associated with adverse events. For thiazides, these were orthostasis, gastrointestinal upset, erectile dysfunction, fatigue, and muscle symptoms. Citrates were associated with gastrointestinal symptoms and allopurinol with rash, acute gout, and leukopenia.
'Increased fluid intake to achieve at least 2 L of urine per day targets to improve the blood flow via kidneys but it can be achieved simply by using Dr. Allen's Device for Kidney Care,' comments Dr. Allen.
Contrary to current treatment options, Thermobalancing therapy enabled by Dr. Allen's Device eases the symptoms of kidney stones first, gradually dissolving kidney stones over time. Watch the video here: http://www.youtube.com/watch?v=5Wo0BQ24D6U.
"People should avoid complications, such as high blood pressure or diabetes after ESWL," says Dr. Simon Allen. "Dr. Allen's therapeutic device dissolves kidney stones and prevents their formation in the future."
Read more at: http://finetreatment.com/kidney-stones-treatment-kidney-stone/.
About Dr. Simon Allen and Fine Treatment:
Dr. Simon Allen, MD, PhD, Academician, member of the ATA, is a highly experienced medical professional. He specializes in internal medicine. He has treated a wide range of chronic diseases, including patients after a heart attack, with kidneys problems, including kidney stones disease, prostate and spine conditions, as well as metabolic disorders. Fine Treatment supports global customer outreach, and ensures international availability of Dr. Allen's Devices for the treatment of chronic prostatitis and BPH, coronary heart disease, for dissolving kidney stones, as well as for easing headaches, dizziness, and relieving lower back pain and sciatica.