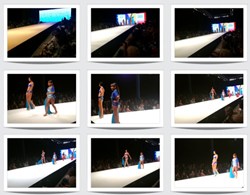 It was great to demonstrate to attendees that sun safety is on trend this summer with our product lines
Sydney, NSW (PRWEB) August 05, 2013
The popular USA trade exhibition Swim Show was held last week from July 20 to 23, 2013. Amongst the exhibitors was renowned children's swimwear company Platypus Australia. The show enabled the kid's bathing suit manufacturer to showcase their on-trend range of 'mix and match' pieces, which have the highest level of sun protection UPF50+ built into the fabric. The company's founder Ms. Karel Wheen remarks about showcasing her fashionable children's collection, "The Swim Show visitors couldn't keep their eyes off our pieces as they playfully went down the runway. It was great to demonstrate to attendees that sun safety is on trend this summer with our product lines."
Protecting children from the sun can be a challenging task for most parents because safety and popular fashion don't always mix well. As the weather heats up in the northern hemisphere, finding ways to shield children from the harmful effects of ultra-violet rays, yet allow them to still enjoy the summer sun, is a top priority for parents.
Over four days in late July, the trade fair called Swim Show was held in Miami Florida, USA. As exhibitors displayed their wares, attendees tried to find the best products to stock their stores. For those retailers seeking fashionable yet UV protective kid's bathing suits, they were happy to call their search off once they found Platypus Australia.
For the last 17 years Platypus Australia has produced sun-safe children's beachwear with a chic twist. Their latest children's swimwear and accessory range features pattern-mixing and colour blocking, from lilac roses for the girls to blue sea patterns for the boys. The product line covers all ages from infants up to teenagers.
Platypus's professional experience in producing top quality for the youth fashion market was clearly displayed at Swim Show. Attendees applauded and photographers snapped shots when some of their bathers graced the runway.
What's more, Platypus Australia was also featured in the 'The Swim Journal' magazine which "added to the curiosity from visitors to see what we were showcasing this year." The magazine made mention of Platypus in the Trends segment, as well as discussed their ability to combine style with sun protection in the editorial section.
The overall positive feedback the company received for their kid's bathing suits "proves we've brought out another collection that's on-trend this summer" says Ms. Wheen.
She goes on to say that all their ranges are inspired by "what's popular in adult fashion and the feedback we get from customers." Then they ensure everything produced is of top quality, comfortable and sun-safe. The Australian company Director adds that their "swimwear has the highest available rating of UPF50+, which blocks out more than 97.5% of the UV radiation."
She further explains the simplicity behind how Platypus can continue to bring out popular lines each year, "Half the problem for parents is to get their kids to stay covered up in the sun. So we solve that problem by providing comfortable and hip swimwear that has the UV protection built in." Ms. Wheen then notes that the other half of the issue "requires a little more diligence...applying sunscreen to the little ones regularly."
Platypus Australia showcased their latest kid's bathing suit collection at the popular Swim Show exhibition held in Miami, Florida. The company's exposure in 'The Swim Journal' helped create great interest in the range at the event, which proved the company was yet again on-trend for children's summer fashion. To see what trade experts and retailers are raving about, visit Platypus Australia.
Their website features their UPF50+ pieces including: swim suits, sun shirts, rash shirts, swim shirts, caps and bucket hats, board shorts and skirts. All of the company's collection meets the Australian Radiation Protection and Nuclear Safety Agency (ARPANSA) and British Standard for Ultraviolet Radiation's highest rating criteria.
About Platypus Australia
Since their beginnings in 1996, Platypus Australia's quality children's UV protective swimwear has spread to the UK, Europe, Asia and USA. They're export-ready garments are internationally acclaimed and in high demand since the effects of harsh ultraviolet radiation are now well known.
Platypus Australia's beachwear gives parents peace of mind knowing their children are safe, while having fun in the sun. For more information regarding their renowned product range, visit http://www.platypusaustralia.com.