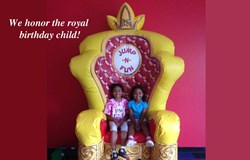 "As a locally owned Greensboro business, we are happy to provide more fun birthday party ideas to help out our loyal customers." Suzette Diaz
Greensboro, NC (PRWEB) August 22, 2013
Jump-N-Fun indoor inflatable party place offers tips for parents who struggle with party ideas for their kids.
While parents always want to have the best birthday party for their children, it can be tough coming up with ideas to make the event memorable. Jump-N-Fun has compiled the following ideas in an effort to help out parents.
The following are some ideas they recommend for your birthday party goers to try:

Play imagination station charades. For this party idea the only object you need is a wire hanger. Get a wire hanger that won't prick a child when they bend it. Have all the kids sit in a circle, and each takes a turn using the wire hanger to create an object. Ex: steering wheel, cane, hat, etc. Hand out prizes to the one who stumps the audience of players the most and a prize to the person who guesses the object the most amount of times correctly.
Have a gum relay race. For this party idea the only objects you need are two pairs of oversized heavy garden gloves and two packs of stick gum. Each team gets a pair of gloves and a pack of gum. The object of the game is the team that passes the gloves through all its players as they unwrap a stick of gum and put in their mouth, wins!
If parents still can't come up with a special birthday party idea, bring the party to Jump-N-Fun. We are the leading kids birthday party place in Greensboro. Besides providing the best birthday party ideas for kids, Jump-N-Fun caters to field trips, church outings, daycares, schools and regular open play. Jump-N-Fun is clean, comfortable, and fit with well-decorated private birthday rooms available every day of the week. Just call(336)346-8519 to set up your next kids birthday party.
For more information, visit their website at http://www.funindoors.com.
About the Company:
Jump-N-Fun is the Triad's premier indoor inflatable party place. They provide the best birthday party ideas for kids that live in Greensboro, High Point, Jamestown, Reidsville, Kernersville or Winston-Salem, NC areas. When parents, church leaders, groups, teachers and grandparents alike are thinking of things to do with kids indoors, Jump-N-Fun is their ideal choice. As a locally owned and operated inflatable bounce house facility, they have bought many smiles to children of all ages since 2006. Their bounce houses in Greensboro and High Point are safe, secure, fun and in a climate-controlled environment. For more information please visit their website at http://www.funindoors.com.