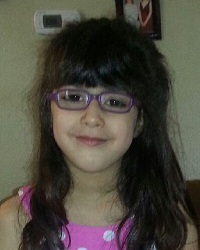 Maritza loves people, and we're hoping that our community can come together and return some small portion of that love by helping us give her a wonderful birthday she can remember fondly forever."
San Antonio, TX (PRWEB) July 23, 2015
In an ongoing commitment to improve the local community, Lochte Insurance Agency is initiating a charity drive for Maritza, a young San Antonio native suffering from cerebral palsy. Cerebral palsy is the most common movement disorder among children, and affects roughly two out of every thousand children.
Funds gathered during this fund raising effort will be used to purchase back to school supplies and gifts for her approaching birthday. Maritza is parentless at present, and lives with a foster mother. Efforts to raise funds for Maritza's birthday and back to school supplies will be coupled with a search for a permanent family she can call her own.
"Maritza is truly a treasure," says Scott Lochte, owner and manager of Lochte Insurance Agency. "She's warm, friendly, and loves to dance and put on shows." As her foster mother can attest, Maritza loves dolls and princesses, and enjoys spending time with the new baby placed with her and her foster mother. "Maritza loves people," continues Lochte, "and we're hoping that our community can come together and return some small portion of that love by helping us give her a wonderful birthday she can remember fondly forever."
Reaching out to families throughout San Antonio, Lochte Insurance Agency is actively seeking donations for Maritza while raising awareness about the realities of cerebral palsy. Efforts are also underway to construct a social media page that Lochte hopes will gather support for Maritza's birthday from all over the state.
In addition to planning a birthday party for Maritza, the Lochte Insurance team has made a habit of assisting local causes and charities in San Antonio. From supporting an animal shelter to raising funds used to purchase toys for the children of deployed service members, Lochte Insurance has been an active agent of change. "This is our community, and we're going to do everything we can to make it stronger, better, and brighter," says Lochte.
Those interested in supporting Lochte Insurance Agency in their fundraising drive for Maritza are invited to visit the website and donate to her birthday fund directly from this page: http://www.lochteinsurance.com/Showing-Maritza-Some-Love_18_community_cause. Those who want to learn more about the other charities supported by Lochte Insurance are invited to visit their Community Causes page, located here: http://www.lochteinsurance.com/community-cause.
About Lochte Insurance Services
Lochte Insurance Services is dedicated to providing customers with an outstanding level of professional service. We look forward to helping families like yours protect the things that are important - your family, home, car and more. Lochte Insurance Agency is located at 8808 Huebner Road Suite 120 in San Antonio, TX 78240 and can be reached at 210-691-0040.